Back to blog
Finnish growth company surprised international experts – "A perfect recipe for success"
A Finnish growth company based in Lahti employs professionals of 18 nationalities. International experts Pierre Gau and Thy Nguyen explain what made them choose Kempower – and what has surprised them.
Brave professionals from around the world
I really enjoy working in sales and trying to solve people's problems. I'm also the worst liar in the world, so I'd never be able to sell something I don't believe in.

Pierre Gau, Regional sales director
By believing I don't only mean that the products that I sell must work. The intentions must be good, too – I want to spend my energy on things that matter. This is why I have from a young age focused on working with sustainable energy solutions, such as solar power and electric transportation.
Kempower has an unique approach to charging electric vehicles, which impressed me. Other players in the industry compete over who can make the fastest charger, but today, this mainly benefits the few who are driving a certain type of (usually luxus) electric vehicles.
Instead, Kempower concentrates on enabling charging several cars based on their individual charging needs – so making electric driving a viable option for the majority of drivers. I think this starting point is not only innovative but also more democratic.
So I was sold on Kempower's technology already before the job offer; but without the right people I wouldn't have taken up even the most interesting role.
Kempower has everything I want from a workplace: amazing technology, a strong vision and brilliant people both in Finland and abroad. I believe this is a perfect recipe for success.
Kempower has grown rapidly, and in December 2021 the company listed its shares on Nasdaq Helsinki. "It's amazing how an innovative and international company like Kempower comes from the small Finnish town of Lahti,

Pierre Gau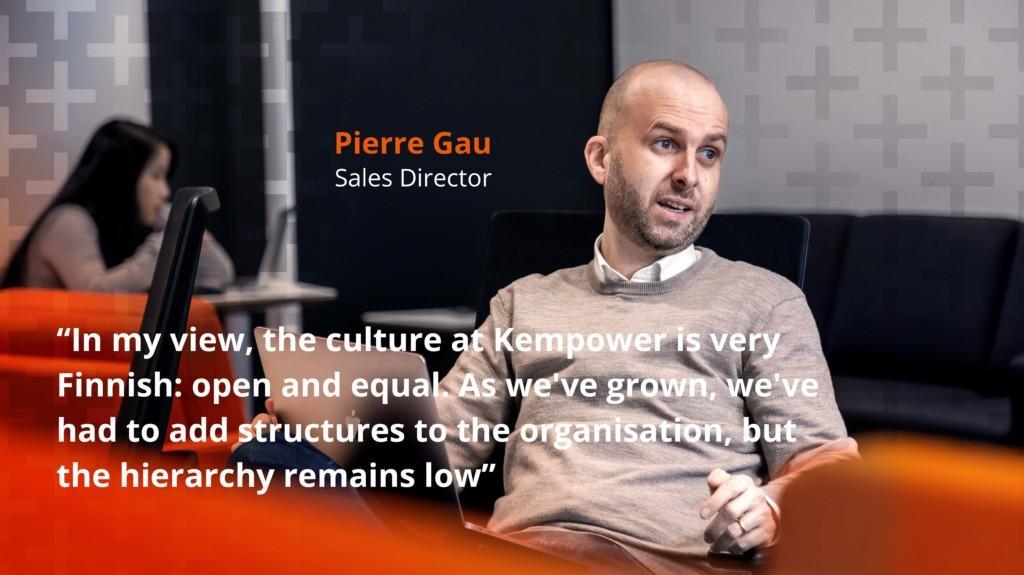 I've worked for Kempower for less than a year now and I've been able to challenge myself professionally more than I have in a long time. I started at Kempower as Head of Business Development, and I was responsible for sales as well as business development and building sales and partnerships in new markets.
I've always wanted to help people. One of the things my mother taught me. That's why I was also hoping to manage a team at some stage.
Now I have the chance to lead a six-strong sales team, and the members live across Europe: in Spain, France, Poland and Italy.
We discuss, share information, and build a sense of community virtually, and soon we'll be able to meet face-to-face. I want the team members to feel part of the Kempower community despite the distance.
The members of my team are independent, brave and evidently skilled in what they do. They have earned my trust since day one, and I don't feel I need to supervise them all the time. Of course I'm there to support them whenever needed.
In my view, the culture at Kempower is very Finnish: open and equal. As we've grown, we've had to add structures to the organisation, but the hierarchy remains low.
On the other hand, we've also got something a lot of Finnish companies should have more of: the courage to try new things and set high targets. If we want to sell our solutions to Australia, we don't hesitate; we act.
Here everyone is treated equally regardless of their gender, nationality, or any kind of background. Many companies promise the same thing, but here it's not just empty words; it's something that can be felt and seen in everyday life.
Meaningful work every day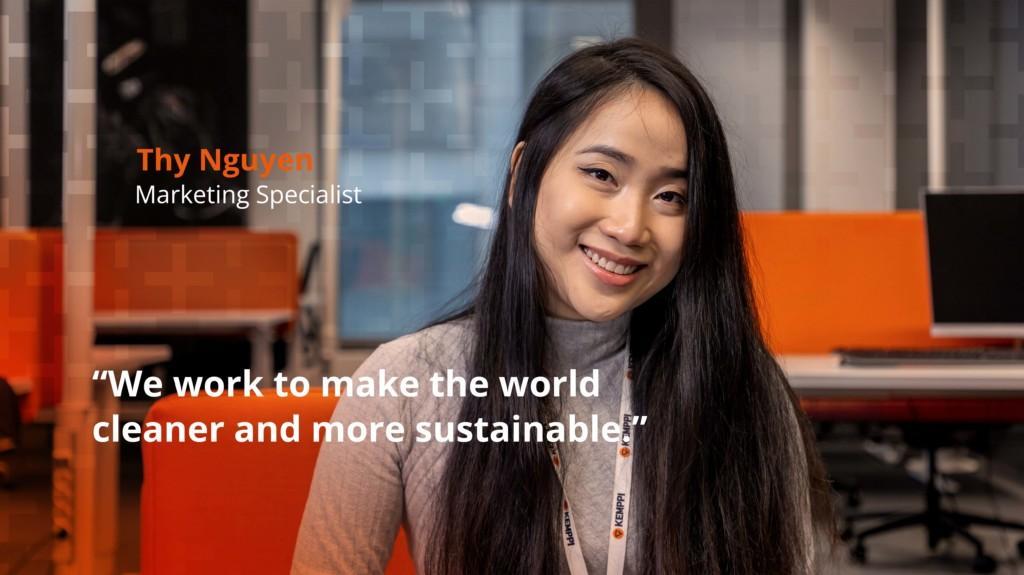 "We work to make the world cleaner and more sustainable,"

Thy Nguyen, Marketing Specialist – Graphic Design & Digital Marketing
Environmental issues and sustainable development have always been close to my heart, so when I stumbled across Kempower on LinkedIn, I got excited immediately. When they also happened to have an open vacancy that matched my experience, I didn't hesitate to apply.
I started in the marketing and communications team at Kempower in November, and I love the diversity of my job. My working days consist of, for example, visual design, digital marketing, social media, and pretty much everything that has something to do with design. My job description is extensive, but that's one of the best things about working for Kempower: I can learn new things and widen my expertise all the time.
The way I've been welcomed as a new employee has been wonderful, and our small team already is like a group of friends. I've never experienced a similar level of closeness in my previous workplaces.
It's particularly great that you can choose which location you want to work at. I work remotely in the Kempower Helsinki office. We have face-to-face meetings in Lahti on Monday each week with the marketing and communications team. Currently I live in Vantaa, but I'm originally from Vietnam. I'm one of the many international employees at Kempower – there are 18 different nationalities amongst us.
Our working language is English, which works really well. Sometimes I wonder why Finns claim they can't speak English, when they speak it almost perfectly. Having international colleagues is a huge benefit. Professionals from different backgrounds can offer diverse thinking and points of view as well as an understanding of international markets.
When I started working for Kempower, I imagined it to be a traditional corporation; where things proceed slowly if at all. I was completely in the wrong. Here everyone can share their opinions and new ideas. There aren't any deep-rooted views that things should be done the way they always have. People are really innovative and want to do things in new ways – and really quickly.
I've worked in a growing company before, but here the pace is on a whole new level. Within a year, the number of employees has almost quadrupled. Growth means that we employees must be able to react quickly and prioritise. A fast working pace suits me just fine. I don't want to sit around waiting for someone to give me a task; I prefer advancing things all the time. There's no micromanagement at Kempower; we do our work as we see fit. Here everyone, including the leadership, understands that none can know everything. That's why we're always ready to hear new thoughts and ideas about how to do things in smarter ways. We give a lot of feedback, and it feels good when my efforts are acknowledged. Here I know I'm doing an important job every day.
The world of electric vehicles and fast charging is ever changing – that's why we need a team that is constantly evolving and hungry to learn. Would you become our next employee? Go to our Career page to learn more!