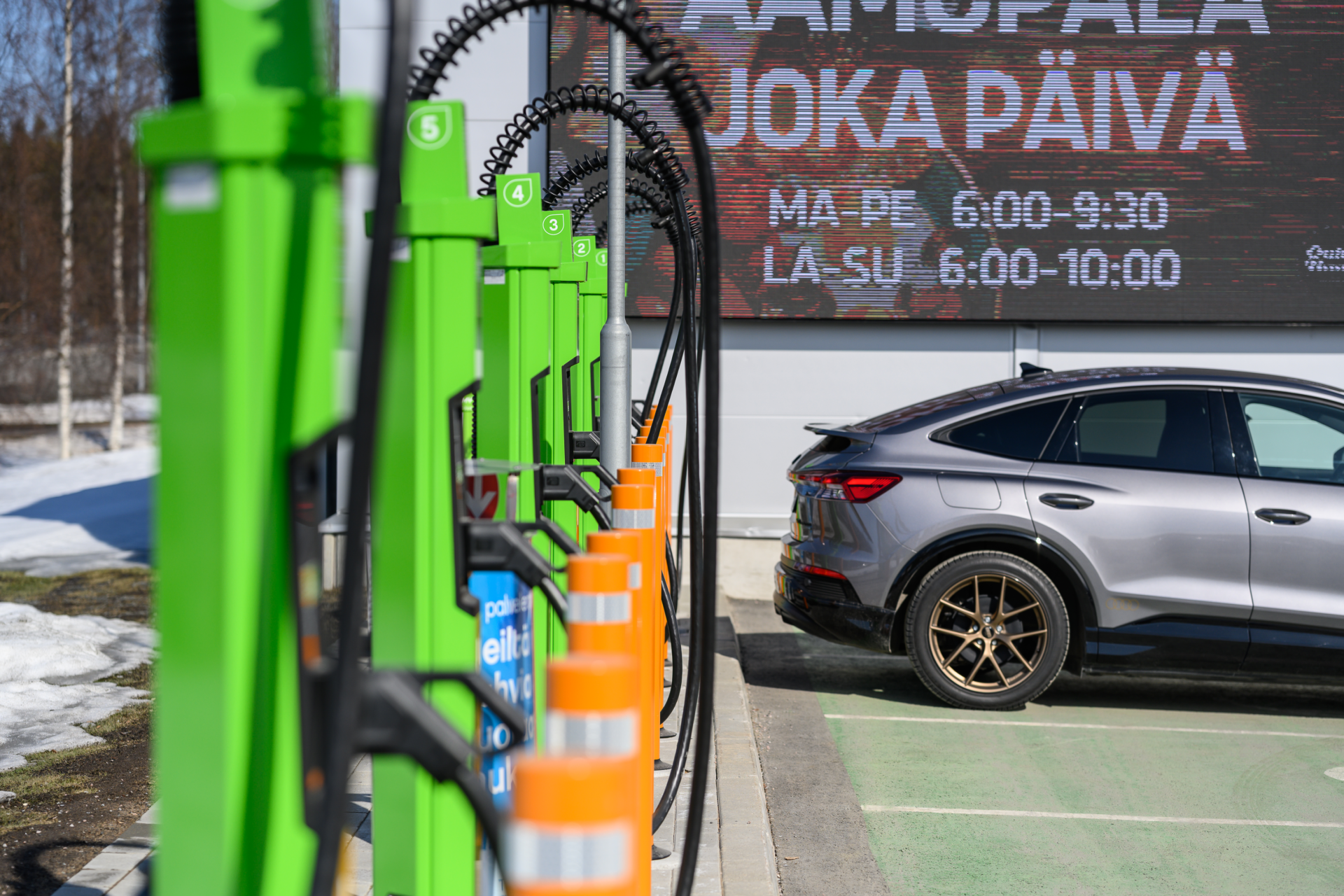 Kempower Satellite
Diseñado para ofrecer una experiencia de usuario de recarga de vehículos eléctricos de primera calidad, está equipado con un exclusivo sistema de soporte del cable que facilita su manipulación. Esto la convierte en la elección óptima para zonas de aparcamiento estrechas.
Beneficios principales
Diseño fácil de usar

Nuestro sistema de soporte del cable asistido por muelles y la pantalla táctil de fácil manejo fomentan la repetición de las visitas de carga.

Poco espacio

El sistema de carga Kempower Satellite ofrece flexibilidad con hasta 80 metros de separación, ideal para zonas con restricciones de espacio como aparcamientos o cerca de muros.

Potente carga para vehículos eléctricos

Kempower Satellite suministra hasta 400 kW a 500 A para una carga más rápida, destinada a vehículos eléctricos de alta capacidad y camiones BEV.
Kempower Satellite ofrece una experiencia excepcional al conductor de vehículos eléctricos.
They're not just for EV drivers but also cater to charging service providers, fleet operators, and anyone in need of a high-performance fast charging solution.​
En la recarga pública, nuestro sistema de recarga por Satellite sirve tanto a los vehículos eléctricos de bajo voltaje como a los de alto voltaje, garantizando la accesibilidad de todos los conductores.
​
En los puntos de recarga de los depósitos, hasta 8 Satellites ofrecen una solución fiable de recarga nocturna.
Kempower Satellites incorpora una pantalla táctil de fácil manejo y un lector RFID. Supervise las sesiones de carga a través de un dispositivo móvil, utilizando la conectividad del servicio en la nube Kempower ChargEye.
Nuestro exclusivo sistema de soporte de cables garantiza una manipulación de los cables sin complicaciones, junto con una interfaz clara y fácil de usar para una experiencia de usuario de primer nivel.
El marco de aluminio, fino y robusto, simplifica la instalación en espacios reducidos.
The Kempower Satellite Charging System excels in performance. As standard, each Satellite can be equipped with CCS2 or CHAdeMO, with options for one or two charging plugs. For North America, CCS1 is also offered.​
For public charging needs, Kempower Satellites can be equipped with DC energy meters and payment terminals.​
El sistema de carga Kempower Satellite ofrece un rendimiento superior
La Kempower Power Unit alimenta los Satellites con hasta 600 kW de potencia total. Cada módulo de potencia es de 50 kW. El diseño modular permite aumentar gradualmente el número de módulos de potencia instalados, de 1 a 12 unidades en un armario triple.
El cuerpo resistente a la intemperie y el revestimiento especial de la electrónica garantizan que tanto la Power Unit como Kempower Satellite puedan instalarse tanto en interiores como en exteriores.
Experiencias positivas de clientes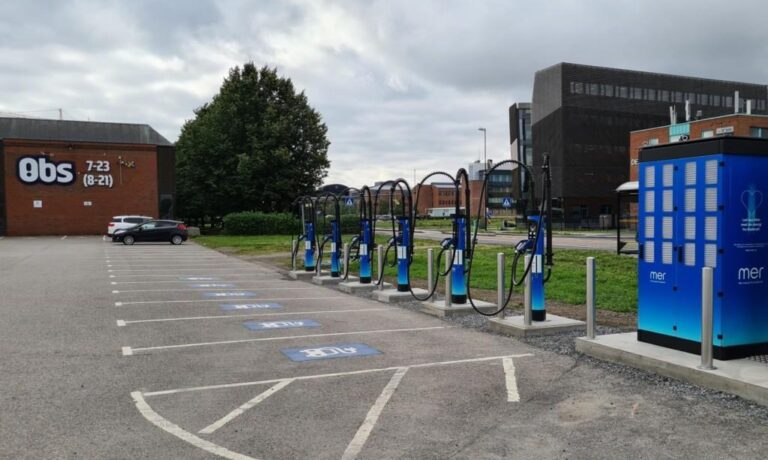 Novedades
Kempower is the new EV fast charging partner for Mer Norway
Mer, one of the leading charging point operators in Europe, has chosen Kempower as one of its new electric vehicles (EV) fast charging partners in Norway. Kempower and Mer Norway have signed a frame agreement on Kempower's DC fast charging technology deliveries to Norway. Following Mer Norway's ambition to provide sustainable electric mobility to everyone, they will establish charging stations with Kempower technology at scale.
Novedades
Kempower's unique charging technology enables exceptional user experience at Greenstation's first Norwegian charging hub
Norway has long held a leading role in the global electric vehicle (EV) market. The country has the highest market penetration per capita and the largest plug-in segment market share of new electric car sales globally, with 86.2% of new registrations being zero-emission last year.
Blog
Elywhere mobile supercharger with Kempower technology
Elywhere mobile supercharger had its premiere at the EVS 35, the world's largest e-mobility event organized in Oslo in June 2022. The mobile supercharger provides DC charging up to 150 kW with 2 Kempower S-Series charging satellites and 4 outputs, powered by PIXII batteries.
Más información sobre Kempower Satellite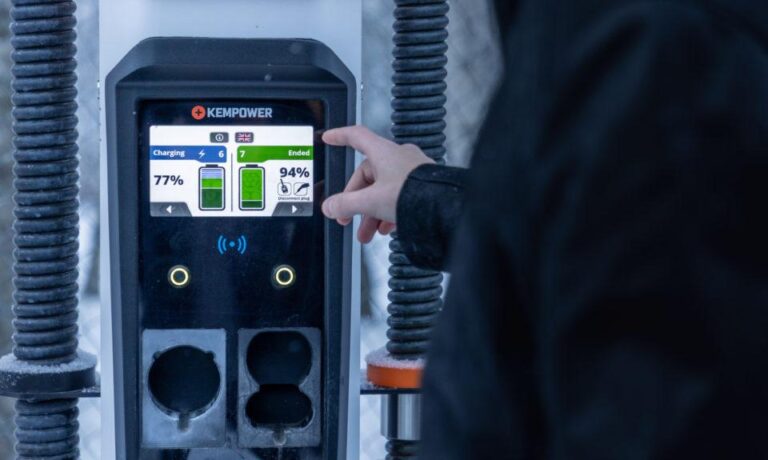 Novedades
Kempower delivers fast charging technology to GodEnergi A/S for electric bus depot in Denmark
EV fast charging solutions provider Kempower will deliver DC fast charging technology to GodEnergi A/S for a new electric bus depot in Aalborg, Denmark. Aalborg bus depot will host fast charging technology 121 buses, and it will be the biggest electric bus depot in the Nordic countries. The bus depot will be ready in August 2022.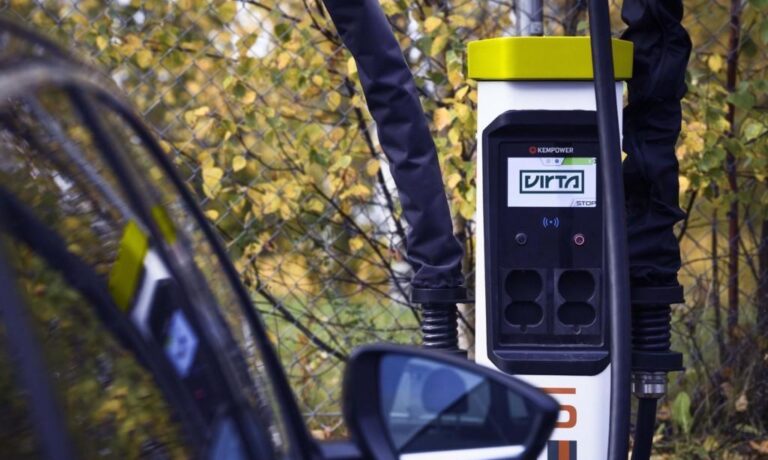 Novedades
Kempower supports Finland's largest home electronics retail chain Gigantti in establishing a public charging network
Gigantti, Finland's largest home electronics retail chain, builds an electric car charging network outside its stores in collaboration with Kempower and Virta. The Finnish Energy Authority's decision to tender for high-power charging points accelerated the start of installation later this fall. Kempower will manufacture the future charging equipment.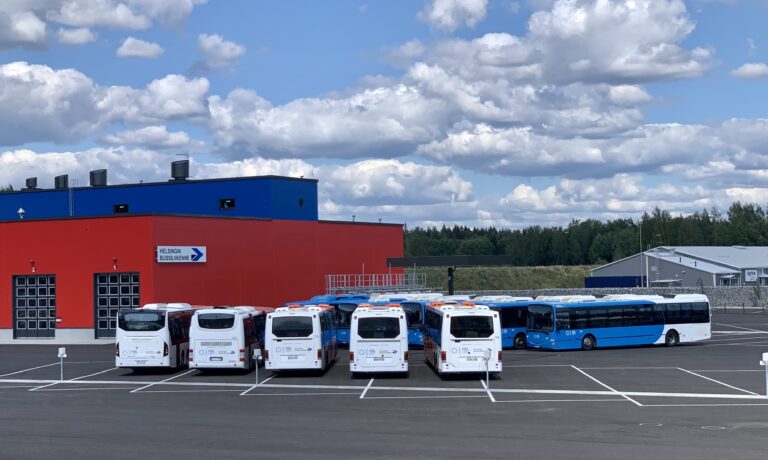 Novedades
Kempower to deliver fast charging technology to Koiviston Auto's electric bus depots in Vantaa and Helsinki, Finland
EV fast charging solutions provider Kempower will deliver DC fast charging technology to the electric bus depots of Helsingin Bussiliikenne Oy, owned by Koiviston Auto Group, in Ojanko, Vantaa and Vartiokylä, Helsinki, Finland. The delivery will include Kempower Power Unit and Kempower Satellite DC fast charging solutions and Kempower ChargEye backend and cloud solutions.
Ficha técnica: Ficha técnica de Kempower Satellite

Ficha técnica: Kempower Satellite
Llame directamente a nuestro equipo de ventas
Estamos aquí para contribuir a su transición hacia la energía eléctrica. Más de 100 profesionales de la automoción están aquí para apoyarle. Le ayudaremos a ampliar su negocio y a cumplir las normas del transporte eléctrico.
Ventas de Kempower