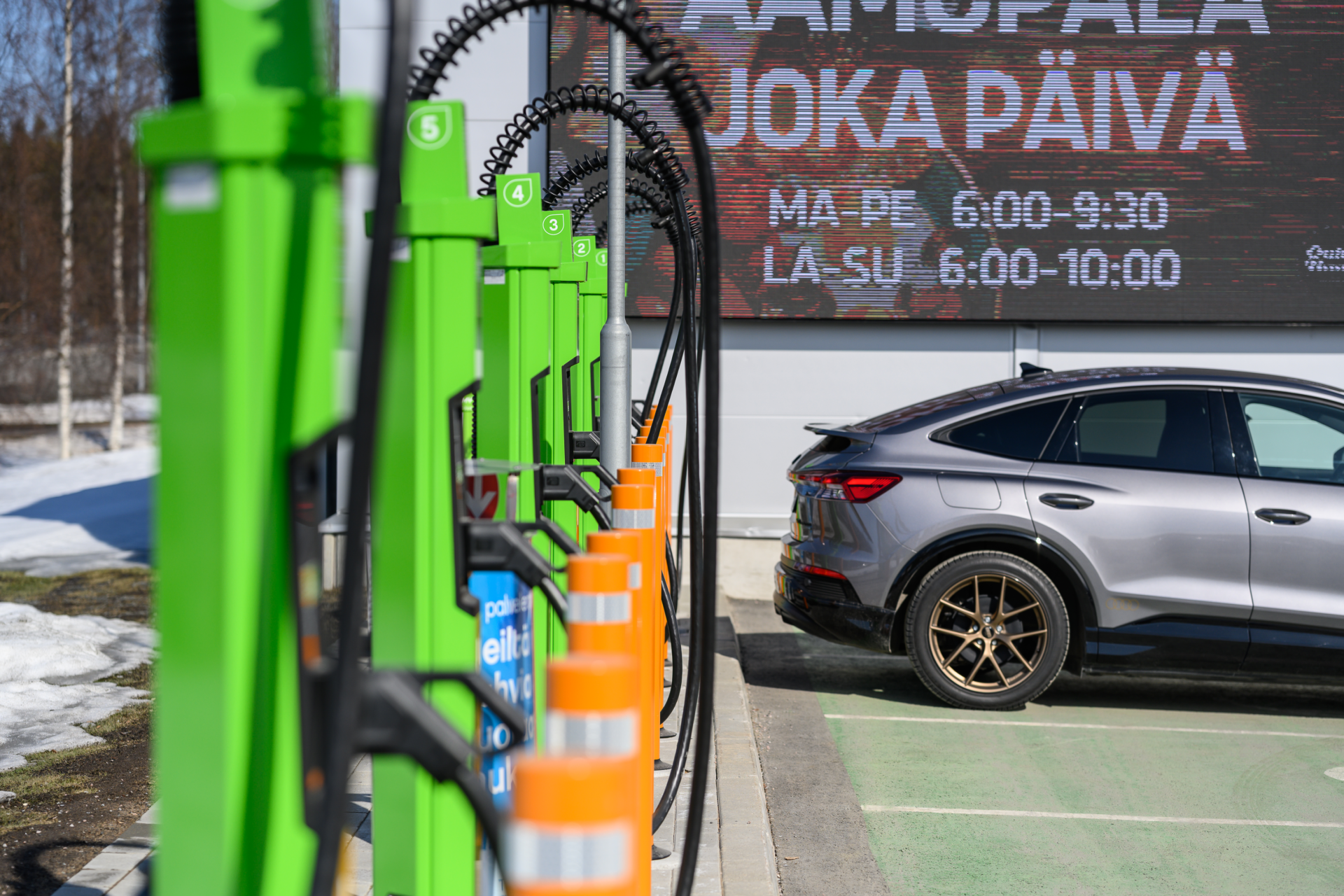 Kempower Satellite
Studiato per offrire un'esperienza di ricarica EV di alto livello, è dotato di un esclusivo sistema di supporto per facilitare la gestione del cavo di ricarica. Questo accorgimento ne fa la scelta ottimale per le aree di parcheggio strette.
Vantaggi principali
Facilità d'uso

Il nostro sistema di supporto del cavo a molla e il touch-screen di facile utilizzo incoraggiano le visite di ricarica ripetute.

Ingombro ridotto

Il sistema di ricarica Kempower Satellite offre flessibilità con una distanza fino a 80 metri, ideale per aree con spazi limitati come i parcheggi o con muri vicini.

Ricarica EV potente

Kempower Satellite eroga fino a 400 kW a 500 A per una ricarica più rapida, adatta per veicoli elettrici ad alta capacità e autocarri BEV.
I Kempower Satellite offrono ai conducenti EV un'esperienza straordinaria.
They're not just for EV drivers but also cater to charging service providers, fleet operators, and anyone in need of a high-performance fast charging solution.​
Nella ricarica pubblica, il nostro sistema Satellite serve sia i veicoli elettrici a bassa tensione che quelli ad alta tensione, garantendo l'accessibilità a tutti i conducenti.
​
Nei siti di ricarica dei depositi, fino a 8 Satellite offrono una soluzione di ricarica notturna affidabile.
I Kempower Satellite sono dotati di un touch-screen intuitivo e di un lettore RFID. Monitora le sessioni di ricarica tramite dispositivo mobile, utilizzando la connettività del servizio cloud Kempower ChargEye.
Il nostro esclusivo sistema di supporto dei cavi permette di gestirli agevolmente e un'interfaccia chiara e intuitiva garantisce un'esperienza d'uso di alto livello.
Il sottile ma robusto telaio in alluminio semplifica l'installazione in spazi ristretti.
The Kempower Satellite Charging System excels in performance. As standard, each Satellite can be equipped with CCS2 or CHAdeMO, with options for one or two charging plugs. For North America, CCS1 is also offered.​
For public charging needs, Kempower Satellites can be equipped with DC energy meters and payment terminals.​
Il sistema di ricarica Kempower Satellite offre prestazioni di livello superiore
La Kempower Power Unit alimenta i Satellite con una potenza complessiva fino a 600 kW. Ciascun modulo di potenza è di 50 kW. Il design modulare consente di aumentare gradualmente il numero di moduli di potenza installati fino a un massimo di 12 unità in un armadio triplo.
Il corpo resistente alle intemperie e lo speciale rivestimento per l'elettronica permettono di installare Kempower Power Unit e Kempower Satellite sia all'interno che all'esterno.
Storie di successo dei clienti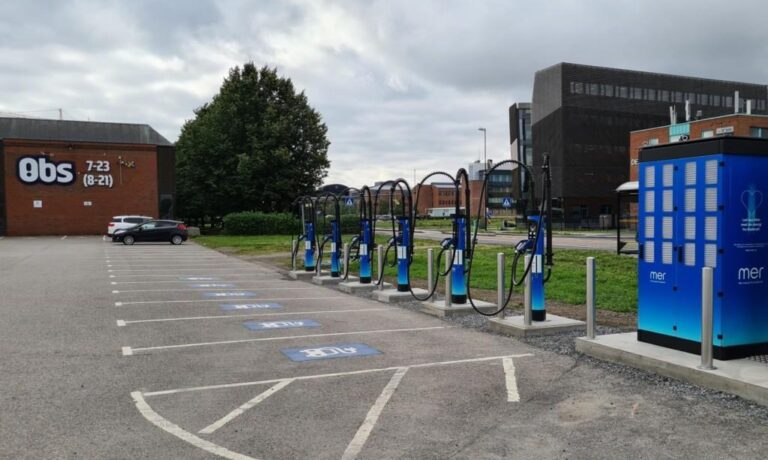 Novità del settore
Kempower is the new EV fast charging partner for Mer Norway
Mer, one of the leading charging point operators in Europe, has chosen Kempower as one of its new electric vehicles (EV) fast charging partners in Norway. Kempower and Mer Norway have signed a frame agreement on Kempower's DC fast charging technology deliveries to Norway. Following Mer Norway's ambition to provide sustainable electric mobility to everyone, they will establish charging stations with Kempower technology at scale.
Novità del settore
Kempower's unique charging technology enables exceptional user experience at Greenstation's first Norwegian charging hub
Norway has long held a leading role in the global electric vehicle (EV) market. The country has the highest market penetration per capita and the largest plug-in segment market share of new electric car sales globally, with 86.2% of new registrations being zero-emission last year.
Blog
Elywhere mobile supercharger with Kempower technology
Elywhere mobile supercharger had its premiere at the EVS 35, the world's largest e-mobility event organized in Oslo in June 2022. The mobile supercharger provides DC charging up to 150 kW with 2 Kempower S-Series charging satellites and 4 outputs, powered by PIXII batteries.
Maggiori informazioni su Kempower Satellite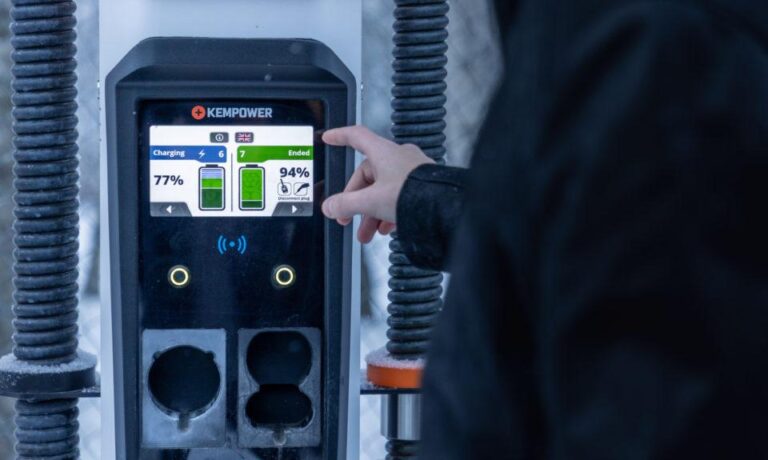 Novità del settore
Kempower delivers fast charging technology to GodEnergi A/S for electric bus depot in Denmark
EV fast charging solutions provider Kempower will deliver DC fast charging technology to GodEnergi A/S for a new electric bus depot in Aalborg, Denmark. Aalborg bus depot will host fast charging technology 121 buses, and it will be the biggest electric bus depot in the Nordic countries. The bus depot will be ready in August 2022.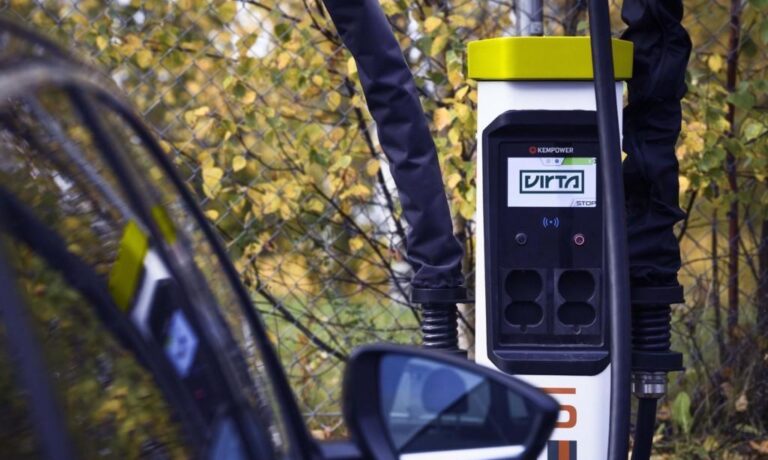 Novità del settore
Kempower supports Finland's largest home electronics retail chain Gigantti in establishing a public charging network
Gigantti, Finland's largest home electronics retail chain, builds an electric car charging network outside its stores in collaboration with Kempower and Virta. The Finnish Energy Authority's decision to tender for high-power charging points accelerated the start of installation later this fall. Kempower will manufacture the future charging equipment.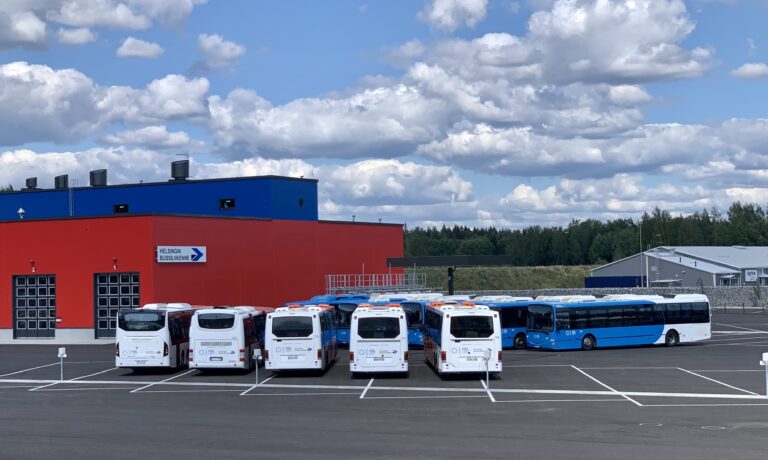 Novità del settore
Kempower to deliver fast charging technology to Koiviston Auto's electric bus depots in Vantaa and Helsinki, Finland
EV fast charging solutions provider Kempower will deliver DC fast charging technology to the electric bus depots of Helsingin Bussiliikenne Oy, owned by Koiviston Auto Group, in Ojanko, Vantaa and Vartiokylä, Helsinki, Finland. The delivery will include Kempower Power Unit and Kempower Satellite DC fast charging solutions and Kempower ChargEye backend and cloud solutions.
Scheda tecnica: Kempower Satellite Eichrecht

Scheda tecnica: Kempower Satellite
Chiama direttamente il nostro team delle vendite
Siamo qui per aiutarti a effettuare la transizione al trasporto elettrico. Potrai contare sul supporto di oltre 100 professionisti EV. Ti aiuteremo a far crescere la tua attività e a soddisfare gli standard per il trasporto elettrico.
Vendite Kempower