Kempower Station Charger
A compact and modular fast charging station for electric cars, electric commercial vehicles, and electric off-highway vehicles.
Key Benefits
World-Class Cable Handling

Spring-loaded charging cable for easy user experience. Cable structure doesn't touch the ground. Cable won't get dirty, wet, or frozen. Ranges of 5 or 7 meter charging cables.

Intuitive Touch Screen

7" touch screen display guides the user. Displays high-quality graphic elements. Using more visual elements reduces the need for long text translations.

Variety of Possibilities

We offer both 500V and 800V versions depending on your vehicle's drivetrain voltage. Charging power of 50 kW to 400 kW is available. Also available as a multi-voltage (input) variant.
EV Fast-Charging Station
The Kempower Station Charger has either 1 or 2 CPU cabinets that offer power from 50 to 400 kW and it can have 1 – 2 DC charging outlets fixed on one or both sides. Advanced cable handling with spring support ranges from 4 to 6 meters. Furthermore, while the total outlet number as a single cabinet build is 4, it may provide power to 1-2 satellites as far as the outlet number is 4.
For tight charging applications with less space
Kempower Station Charger is optimal for drive-through charging stations where a small footprint and minimal cabling are a necessity. Charging power management can be selected from static or dynamic to meet application needs.
On static power management, each power module is routed to a specific charging cable or further routed to external Satellite post outlet. For dynamic power management, charging power is routed optimally to any of the outlets up to full power depending on cable sizing and number of charging outlets. Dynamic versatility offers nearly limitless possibilities for EV charging.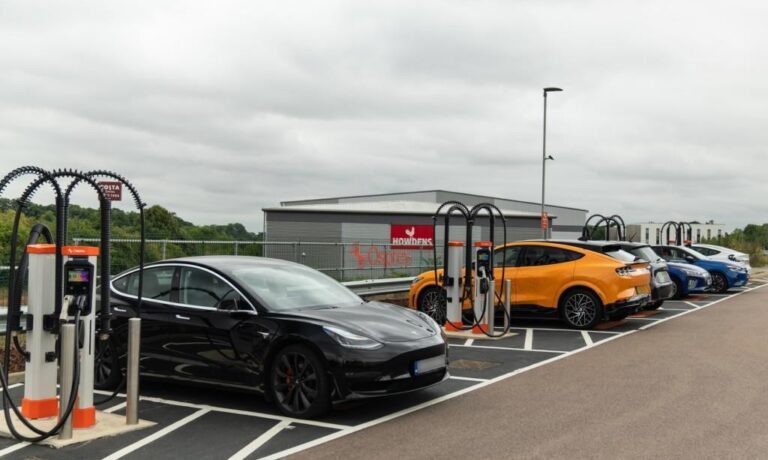 Osprey Charging unveils its first accessibly designed rapid charging hub powered by our technology
Earlier this week, our customer Osprey Charging officially launched its first accessibly designed rapid charging hub featuring our technology at Marston's Paisley Pear pub and restaurant in the UK town of Brackley.
Call our sales
team directly
We are here to help you go electric. More than 100 EV professionals are here to support you. We'll help you scale up your business and meet the standards for electric transportation.