Logistics Fleet EV Charging
Reducing emissions from medium and heavy-duty vehicles is crucial to achieving our climate targets. To succeed in the electrification of logistics, we need to rethink existing charging concepts and technology. Our innovative, modular, and scalable solutions for logistics fleet EV charging facilitate this transition.
Logistics fleet EV charging solutions
Kempower's decentralized logistics fleet EV charging solutions are a perfect match for the ever-evolving EV charging needs of the logistics industry. Discover how our solutions can help electrify commercial fleets and warehouses.
Fleet Operators

For fleet operators who are planning to or are in the process of electrifying their heavy-duty vehicle fleets.

Logistic Centers & Warehouses

For operators and owners of logistic centers and warehouses faced with the challenge of providing truck charging infrastructure for commercial vehicles.

Truck CPOs

Charge Point Operators who intend to expand their business towards public truck charging – along motorways, in industrial hubs or port areas.
Close
Fleet Operators
The transition towards zero-emission transportation is happening. Legislation empowers not just the switch to electric light-commercial-vehicles (LCVs) but also the adoption of heavy duty electric vehicles is now under way. Logistic fleet operators now face the challenge of gradually exchanging their vehicle fleets and simultaneously planning for reliable and scalable charging infrastructure at depots – always under consideration of grid limitations.
When it comes to transitioning to electric fleets, Kempower can help operators to overcome their challenges:
Space constraints in depots don't always allow for bulky charging solutions.
Grid limitations need to be answered with highly efficient charging architectures. The dynamic power sharing approach is Kempower's unique differentiator and maximises grid utilization.
Charging infrastructure needs to be highly reliable to avoid any fleet downtimes. How about going for 99% uptime with our charging solutions.
Electricity prices and peak demands need to be managed and mitigated, especially when charging a majority of vehicles at the same time.
Opening up own charging infrastructure to the public or other companies while own vehicles are on the road can create new revenue streams
Close
Logistic Centers & Warehouses
The transition to electric vehicles requires re-thinking existing logistic processes. Logistic centers and warehouses play an essential role in the new electric charging network, as they offer critical charging opportunities for commercial vehicles during their loading/unloading and idle times. Thus, operators and owners of logistic centers and warehouses need to account for high power chargers in infrastructure at their premises, so that electric trucks can quickly re-charge during their visits.
New charging solutions at logistic centers bring new challenges for operators and owners, who must find answers to these challenges.
The charging location needs to be decided according to yard layouts, regulations and operative practicalities.
When charging at or near warehouse facilities, e.g. in case of charging at the dock, safety aspects need to be considered
Opening up charging sites to third parties can create new revenue streams but need account for aspects like authentication and billing
Space constraints in the yard or at docks need to be answered with special charging layouts and cable management options
Grid limitations often play a major role and need to accounted for through efficient charging systems, integration of renewable energy systems as well as battery storages
When electric vehicle traffic increases, charging processes need to be automated through integrated software processes.
Close
Truck CPOs
Public charging sites for cars has become daily business for CPOs. However, the introduction of electric heavy duty vehicles require new concepts when it comes charging operations, site layout and charging technology. Whether a truck charging site is being built along motorways, in industrial areas or ports, new requirements need to be met in order to offer reliable public charging infrastructure for heavy duty EV charging.
New challenges that CPOs are facing when building depot charging sites include:
The introduction of MegaWatt Charging System (MCS) is underway and will require very high power demands towards the grid as well as completely new charging technology.
CPOs that intend to introduce Truck charging to existing truck parking lots e.g. Motorways need compact charging infrastructure to save space and accommodate more vehicles for parking and charging.
Public truck charging will require reservation functionalities within existing CPO backend ecosystems.
Good grid connections are important for fast charging stations for trucks. They may need to be supported by technologies like battery storage, smart charging systems, and connected energy production plants.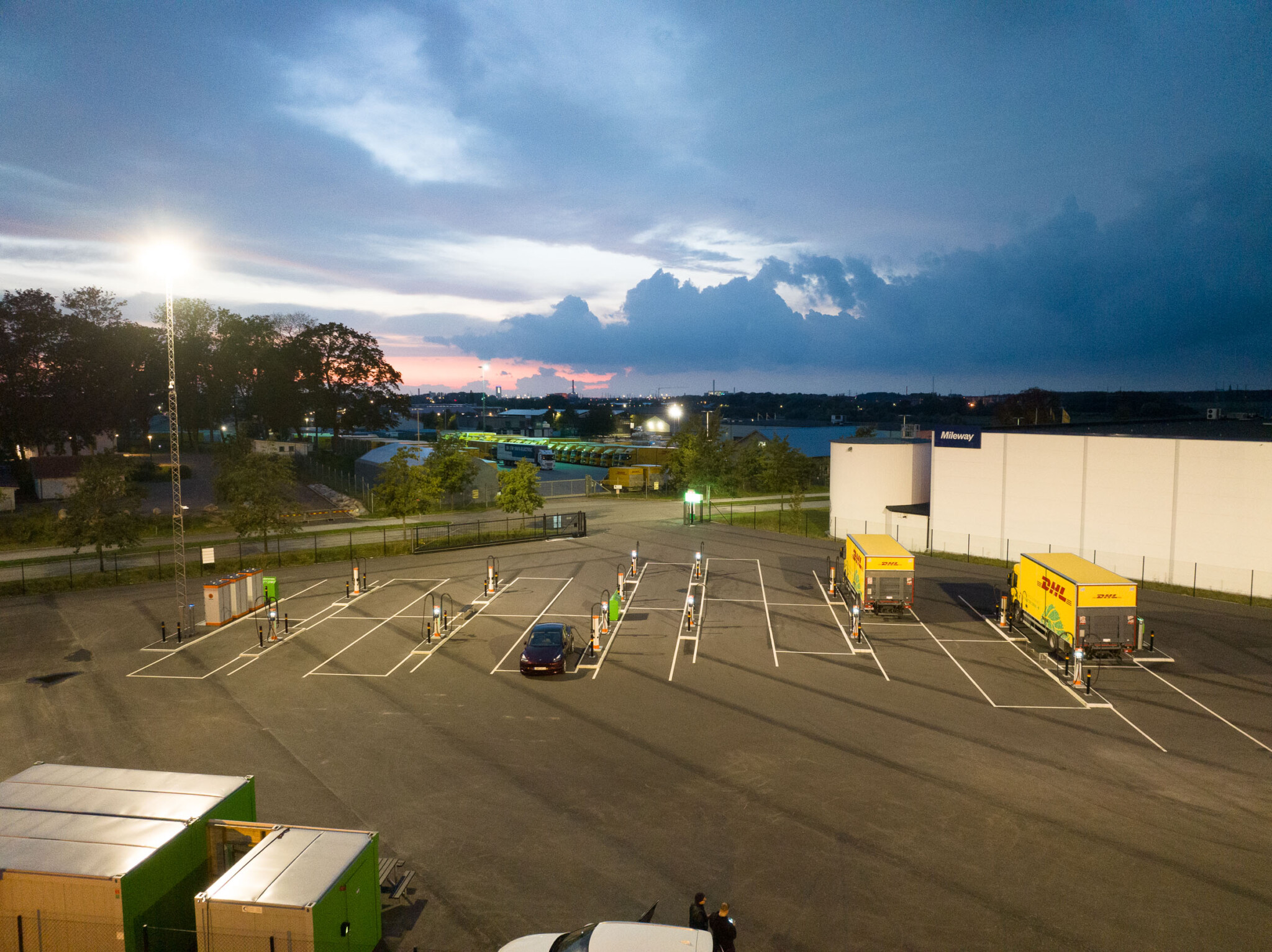 How to charge logistics fleets?
With the adoption of electric trucks, the familiar use cases of passenger cars and buses will change with new requirements for logistics companies and fleet owners. When talking about logistics fleet EV charging, we can differentiate between three major use cases:
Overnight charging is used for distribution vehicles that do not use more energy than they can travel daily.
Destination charging is a new use-case to utilize loading, unloading and idle times at logistic centers and warehouses to charge vehicles with high powers.
On-the-move charging is known from passenger cars, but it needs to be even more efficient and reliable when discussing long-haul trucks. The trucks will use regulatory driver breaks to recharge with powers exceeding the MegaWatt level.
Dynamic Power Sharing for logistics fleet EV charging
Charge multiple vehicles at the optimum power and maximize power utilization.

Logistics fleet EV charging sites with Kempower chargers distribute power dynamically. As the electricity that one truck requests declines, the excess charging capacity can be dynamically transferred to another truck.

You don't need to invest in charging capacity that is only used at the busiest day of the year and remains unused most of the time. You can also prioritize charging capacity automatically to the vehicles that most need it. This way, available grid capacity is utilized efficiently, and your charging infrastructure won't be unnecessarily oversized.
No space, no problem – choose your dispensers
Space is often a limiting factor when it comes to logistics fleet EV charging sites. With our modular layout, you can choose the right charging dispenser for every use case and even connect different dispensers to the same power unit.
Charge your vehicle from overhead, for example with a cable reel, while also installing a Kempower satellite for a different application in proximity.
Multimodality
Maximise your grid connection by covering different charging use-cases with one decentralized solution for your entire logistics fleet EV charging needs.
Use one charging system for different applications and redirect power to where it's needed, charge vehicles overnight with low power and during the day at loading areas or on-the-move truck charging stations with high-power.
Discover Kempower in the logistics industry
Products for logistics fleet EV charging