Kempower Station Charger
The Compact and Fast DC Charger
A simplified modular EV charging experience for public and depot charging activities, serving all types of electric vehicles.
Key Benefits
Easy to Install and Power Up

Spring-loaded charging cable for easy user experience. Cable structure doesn't touch the ground. The compact design requires only a concrete slab/foundation and 3-phase mains supply cabling through upstream fuses.

Scalability

The system starts with 100 kW of power and can be field-upgraded with additional power modules up to 150 or 200 kW. The frame includes two outputs and supports a maximum of two external outputs.

Dynamic Re-routing of Power

The station charger can be equipped with a unique dynamic module that can reroute all of the power channels during any charging session, improving utilization.
The Station Approach to Fast DC Charging
For most applications, the station charger is based on a single power unit cabinet and has one or two outputs on the side panel. The rack-style cabinet features four slots for power modules, each providing up to 50 kW, with a fully furnished capacity of up to 200 kW. The touch screen is located on the same side as the charging cables and has the same functionalities as on satellite posts. The 5-meter charging cable is supported with springs to assist the user and prevent it from scratching on the ground. Additionally, there are other station charger variants, such as multi-voltage and double cabinets, designed for different applications.
While the total number of outlets in a single cabinet build is 4, it can still provide power to 1-2 satellites as long as the outlet number is 4.
For Tight Charging Applications with Less Space

The Kempower Station Charger is ideal for depot charging scenarios where a small footprint and minimal cabling are essential. Each station charger can be equipped with a dynamic module that can reroute all of the power channels during any charging session. The charging power can be optimally routed to any of the 1-4 outlets, up to full power, depending on cable sizing and the number of charging outlets. This dynamic versatility offers nearly limitless possibilities for EV charging.
The station charger is shipped on a pallet and, once plugged into mains and connected to the cloud, and commissioned, it is fully functional.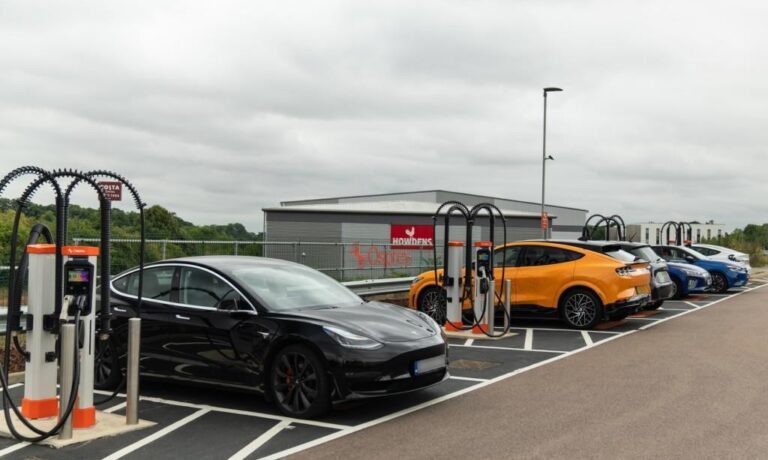 Osprey Charging unveils its first accessibly designed rapid charging hub powered by our technology
Earlier this week, our customer Osprey Charging officially launched its first accessibly designed rapid charging hub featuring our technology at Marston's Paisley Pear pub and restaurant in the UK town of Brackley.
Call our sales
team directly
We are here to help you go electric. More than 100 EV professionals are here to support you. We'll help you scale up your business and meet the standards for electric transportation.