We believe in the power of positive. Whether it's our perspective, the way we work together, or the impact on the climate – we make it positive.
We are people with a can-do attitude. We help each other and voice our opinions, regardless of job titles.
We face obstacles as an opportunity for learning and growth. We take care of each other, we have fun with one another, and it goes without saying that there's no need to burn the midnight oil at Kempower.
We believe in integrity. This means open doors and honest conversations, career development and taking ownership of your work.
At Kempower, we value creating success for us all. And as we grow, we change, so we find ways to make sure our job descriptions align with our interests and needs. So it's not just the product we're developing, but our people.
Plug in and fast charge your potential!
Why Kempower?
As an employee at Kempower, you become part of a network of people, expertise, and inspiration. You get to learn and create many new things. We want to make you stronger and more confident by the network of people.
You have the chance to work on the frontline of the fast-charging industry. Your job will play an important role in creating more sustainable transportation.

We appreciate our diverse individuals who build, enrich and strengthen our corporate culture in their own right and in their own special way.

You have the opportunity to develop not only our products but also our ways of working. Our target is clear, but we are always open to new ideas on how to get there.

We support your well-being by offering comprehensive extensive health care services, insurance policies, as well as various other benefits.
Open position
If you are interested in working with us, and would like to receive information about our open vacancies in the future, please connect with us via the link
https://careers.kempower.com/connect
By selecting the right department, the one of your interests, you will receive info when a new position opens at that department.
Our values
Together

Teamwork across the borders creates success, with joy in everything we do.

Impact

Our passion is to help customers move towards an emission-free future. We are driven by customer success.

Integrity

Responsibility, sustainability, and honesty are our building blocks of integrity

Courage

As a pioneer, we have the courage to think and act differently. We constantly learn.
Educational institution co-operation

Recruitment fairs in educational institutes

Future talents

Interships, thesis, research

Summer Power

Trainee positions

Kempower Starter

Possibilities for under 18-year-olds Application and instructions
At my job interview, my supervisor said that women are hesitant when it comes to applying for a job like this. The thought that electrical engineering is only for men is etched on a lot of people's minds. That's not true, and I hope that more and more women will have the courage to apply."

Paula Hämäläinen,
Production Worker
"People's wellbeing is exceptionally cared for, and we have plenty of benefits. You're treated appropriately regardless of job title, background, or education. Equality is materialized here exceptionally well."

Juho Härkönen,
Production Inspector
Co-operation with educational institutions
Kempower collaborates with various educational institutes. These collaborations create a win-win situation for both parties. By working together, we can create well-trained future talents that meet the needs of the industry.
Kempower works with educational institutes to develop curriculums that are relevant, practical, and meet the industry's needs. A great example of such education is Finland's first master's program in electric transportation systems at LUT University in Lahti. The goal of this program is to ensure that there is enough electric transport know-how in Finland generated through education. These kinds of partnerships also lead to the development of new products, services, and technologies that benefit both industry and educational institutes.
Kempower is open to offering industry visits and expert lectures to provide students with real-world exposure and inspire them to take up careers in the EV industry.
Future talents
Kempower offers future talents opportunities in thesis projects. The most common path to do a thesis project with Kempower is through summer traineeships: the student can first gain basic knowledge of the EV industry and then, together with the team, decide a common topic for their thesis. With this kind of exposure to the industry we welcome, identify and nurture future talent.
All available Internships are published at Kempower.com/careers whenever available.
Summer Power
Every summer Kempower welcomes future talents to experience what it is like to work in a rapidly growing company in the EV industry.
Our goal is to offer hands-on experience in your field of interest. We want to offer opportunities to network with professionals in your field and help you build connections that may benefit you in the future as well.
Every summer, we are on the lookout for future talents with a positive attitude, willingness to learn and put into practice everything they have learned in their studies and be a part of the growing EV community. We want to offer summer trainee experiences that are rewarding! You will gain valuable professional experience, sharpen your skills, and build relationships with your future colleagues.
Our summer jobs are available at Kempower.com/careers when there are opportunities open. We start the searches around December each year and continue until the beginning of the new year. All Kempower summer trainee positions are paid traineeships and available mainly for applicants over the age of 18. All applications should be sent via our recruitment system due to GDPR reasons.
Kempower Starter
We at Kempower want to be a part of the working journey from the beginning. Educating the sustainability and ecological aspects is important to us.
We will inform all short term and work practice programs for applicants under the age of 18 and introduction to working life (TET) opportunities at our Kempower Career-page when they are open for applications.
Voices of Success: Inspiring Stories from Kempower's Talented Team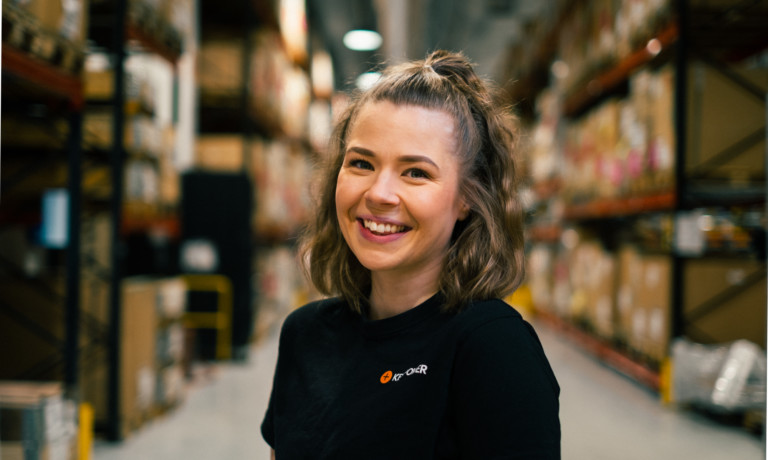 Work Happiness: Paula and Juho Found Their Place at the Kempower Factory
Take a look at how it is to work in the Kempower factory where fast EV charging solutions are manufactured. Paula Hämäläinen and Juho Härkönen tell their story.
Contact us
We are here for you and always willing to listen and learn from new potential people and any other questions that you might have.

Simply reach out to us, we'll be delighted to continue the conversation.