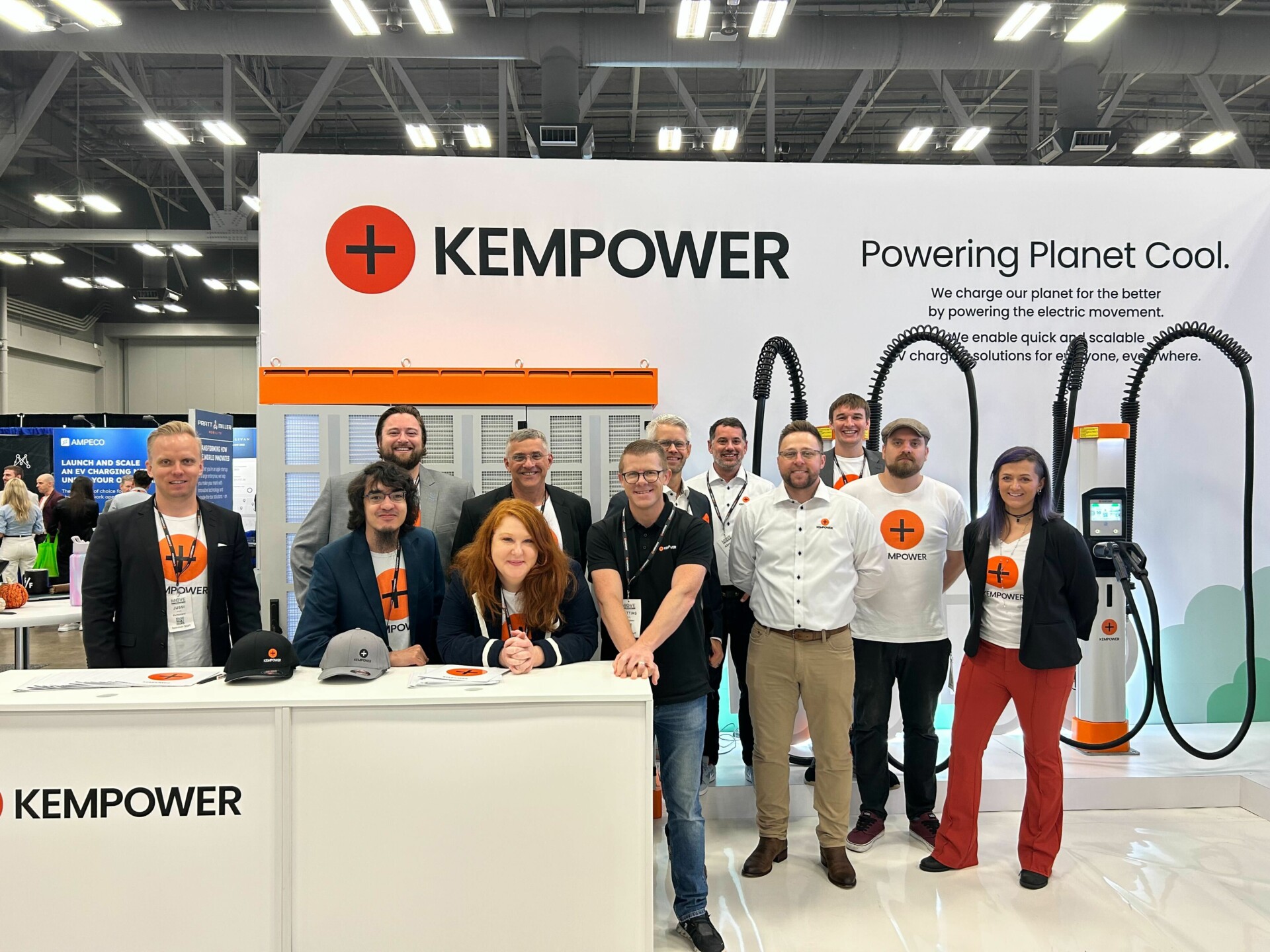 Back to news
Kempower Meets with Clean Energy Focused Partners on the Topic of Sustainable Fast DC Charging Access Across North America 
Kempower Meets with Clean Energy Focused Partners on the Topic of Sustainable Fast DC Charging Access Across North America
AUSTIN, TX – (Friday, October 6, 2023) Kempower's 'happy engineers' hit the trail this week, meeting with thousands of tech focused business operators during the annual MOVE America, tech mobility and start-up convention held this year in Austin, Texas.
"Of the 5,000 or so attendees a majority of them traveled to our booth to talk EV Charging with our engineers, while also sharing sentiments around sustainable business development specifically for fleet charge point operators," said Marcus Suvanto, Director Operations & Business Development, Kempower North America.
Kempower's long-term target is to be 100% carbon neutral.
We are committed to annually reduce the relative carbon footprint.
We will transfer to the use of 100% fossil free electricity in all locations by 2025.
We have established a carbon footprint calculation to follow-up emissions and to set targets according to the GHG protocol.
"The interactive engagement at MOVE America, allowed for thought exchange on where companies like Kempower and others in the sustainable energy field can best support a growing network of electric vehicle drivers from fleet operators to individual owners," added Suvanto who spoke during a forum on the topic of 'boosting charging availability to a growing EV market' at MOVE America.
Kempower is committed to being the front-runner in responsible production and clean tech, investing in continuous production development.
We look forward to working with business developers, policy makers and elected officials across Canada and the United States in the months to come as we increase our product availability for a growing planet in need of a more robust green transportation infrastructure that includes fast DC charging EV stations like Kempower's.

Jed Routh, Director of Markets, Kempower, North America.
You can stay informed about Kempower's technological advancements in EV charging technology by subscribing to our newsletter , following us on LinkedIn, Twitter, Instagram, or Facebook. You can also watch informational videos on our YouTube channel, and sign up to become a North American Kempower partner here.
-ENDS-
Kempower, media:
Miracle King-Wilson, Communications Manager, North America
miracle.king-wilson@kempower.com
+ 984-327-8342
Kempower in brief
We design and manufacture reliable and user-friendly DC fast-charging solutions for electric vehicles. Our vision is to create the world's most desired EV charging solutions for everyone, everywhere. Our product development and production are based in Finland, with the majority of our materials and components sourced locally. We focus on all areas of e-mobility, from electric cars, trucks, and buses to machines and marine. Our modular and scalable charging system and world-class software are designed by EV drivers for EV drivers, enabling the best user experience for our customers around the world. Kempower is listed in the Nasdaq First North Growth Market Finland. www.kempower.com