Back to news
McDonald's in Tampere gets a leading-edge fast-charging system for electric vehicles – the first of its kind in Finland
You are now able to charge your electric car while dining in the Tampere Kaukajärvi McDonald's restaurant. A Kempower satellite fast-charging system is being installed, and so far, it is the only one of its kind in Finland.
The high-power charging system, operated by Recharge, is available in the parking area of McDonald's Kaukajärvi, Tampere. The total power delivered by the charging system is 200 kW, and it can charge four cars simultaneously. A typical charging time with such a high-power charger is 15 to 20 minutes, an electric car can easily be charged while the customer is eating. Chargers can be used with Fortum Charge & Drive and Plugsurfing apps and RFID tags. In addition, it is possible to charge a car membership free by using SMS of QR-code.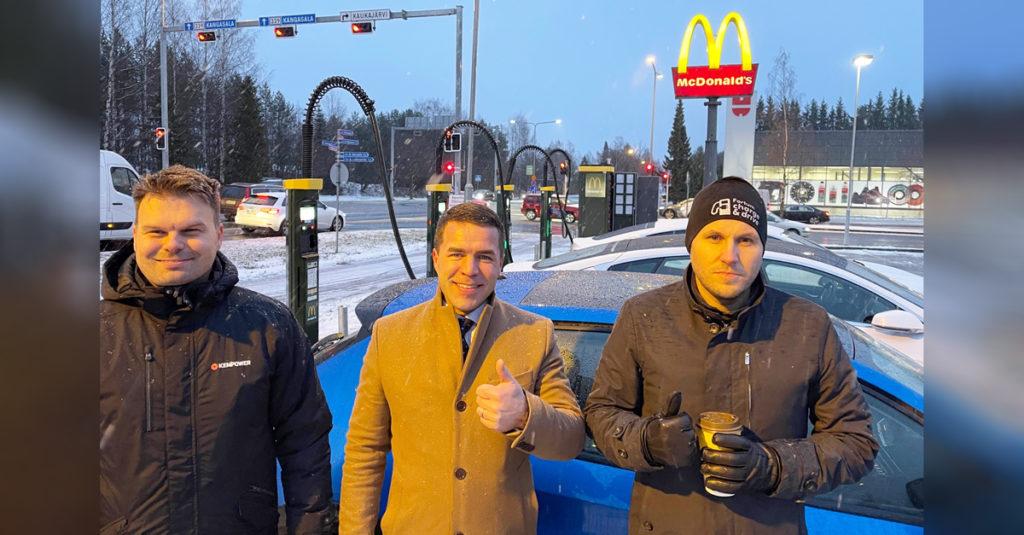 It's really great to have the world's top charging system for our restaurant visitors. We are very happy to be involved in building a charging network in Finland. I am particularly pleased myself, since I have been an electric car driver for over six years now.

Kaukajärvi McDonald's entrepreneur Hannu Wiinikainen
The new charger is part of the charging network operated by Recharge
We are the first operator in the Finnish market to implement this innovative high-power charging technology. This is a continuation of our collaboration with McDonald's over the past year to open chargers at its restaurants in areas that are popular with electric motorists. High-power systems allow quick charging of electric vehicles and thus, bring significant added value for motorists. We look forward to receiving user feedback concerning this new type of charging system It has four separate satellite poles with tangle-free spring-loaded cable management. This is a step forward in user-friendliness. We have similar charging systems in use in Norway, which have been very positively received.

Sami Saarilahti, country manager at Recharge's Finland
Charging points for electric cars can be found near several other McDonald's restaurants in Finland, and the network is continuously being expanded in areas popular with electric motorists.
More information:
McDonald's entrepreneur Hannu Wiinikainen, tel. +358 400 77 5855, hannu.wiinikainen (at) fi.mcd.com
Communications Director Heli Ryhänen, tel. +358 40 501 7179, heli.ryhanen (at) fi.mcd.com
Country Director Sami Saarilahti, tel. +358 40 757 2880, sami.saarilahti (at) rechargeinfra.com
Marketing Director Erik Kanerva, tel. +358 40 523 9355, erik.kanerva (at) kempower.com
About Recharge
Recharge is a pioneer in the eMobility industry, having operated a public EV charging network under the brand of Fortum Charge&Drive since 2011. Recharge is a leading charge point operator in the Nordics, owning more than 1,500 public chargers and operating an additional 1,000+ chargers in Norway, Finland, and Sweden. The Nordic countries are among the most advanced and fasted growing EV markets globally, and Recharge supports the transition to an all-electric car fleet by offering easy-to-use and reliable EV charging services at attractive locations. Recharge is owned by Infracapital, the infrastructure equity investment arm of M&G Plc (63%) and Fortum, the clean-energy company (37%). M&G Plc is listed on the London Stock Exchange as a FTSE 100 constituent and is one of the largest investment management companies in the UK.
Kempower designs and manufactures DC fast charging solutions for electric vehicles. We're a team of electric vehicle enthusiasts with a deep understanding of the charging market and a hands-on mentality. Our product development and production are based in Finland, with a majority of our materials and components sourced locally. We focus on all areas of transportation, from personal cars and commercial vehicles to mining equipment, boats and motorsports. With Kemppi Group's 70 years' experience in perfecting DC power supplies, we set the bar high in engineering and user-experience design. Kempower is listed in the Nasdaq First North Growth Market Finland. www.kempower.com