Text is based on Volvo Finland's press release in Finnish.

Volvo Buses Finland introduces its fully electric bus Volvo 7900 Electric to Finnish urban transport for a test tour. Organized in cooperation with bus operators and cities' public transport officials, the test drives will be carried out with a 12-meter-long electric bus that has a low floor with no stairs on the aisle — the deck is easily accessible from the sidewalk.
The vehicle is equipped to meet Helsinki Region Transport (HSL)'s Class A1 requirements: it has a total of 41 seats, standing room, HSL-compliant seat spacing, large area for prams and wheelchairs, destination displays and bus ticketing systems.
The battery capacity is 200 kWh and the bus is compatible with CCS2 cable chargers or high-powered charging with a roof-mounted OppCharge pantograph. In addition to 200 kWh battery there are other battery options available for the Volvo 7900 Electric models.
The Volvo 7900 Electric is a series production vehicle that is already in use throughout Europe and North America in over 40 regions. The bus is a result of Volvo's expertise in product development and it combines Volvo's long-term know-how in building city transit and tourist buses with modern clean battery power technology.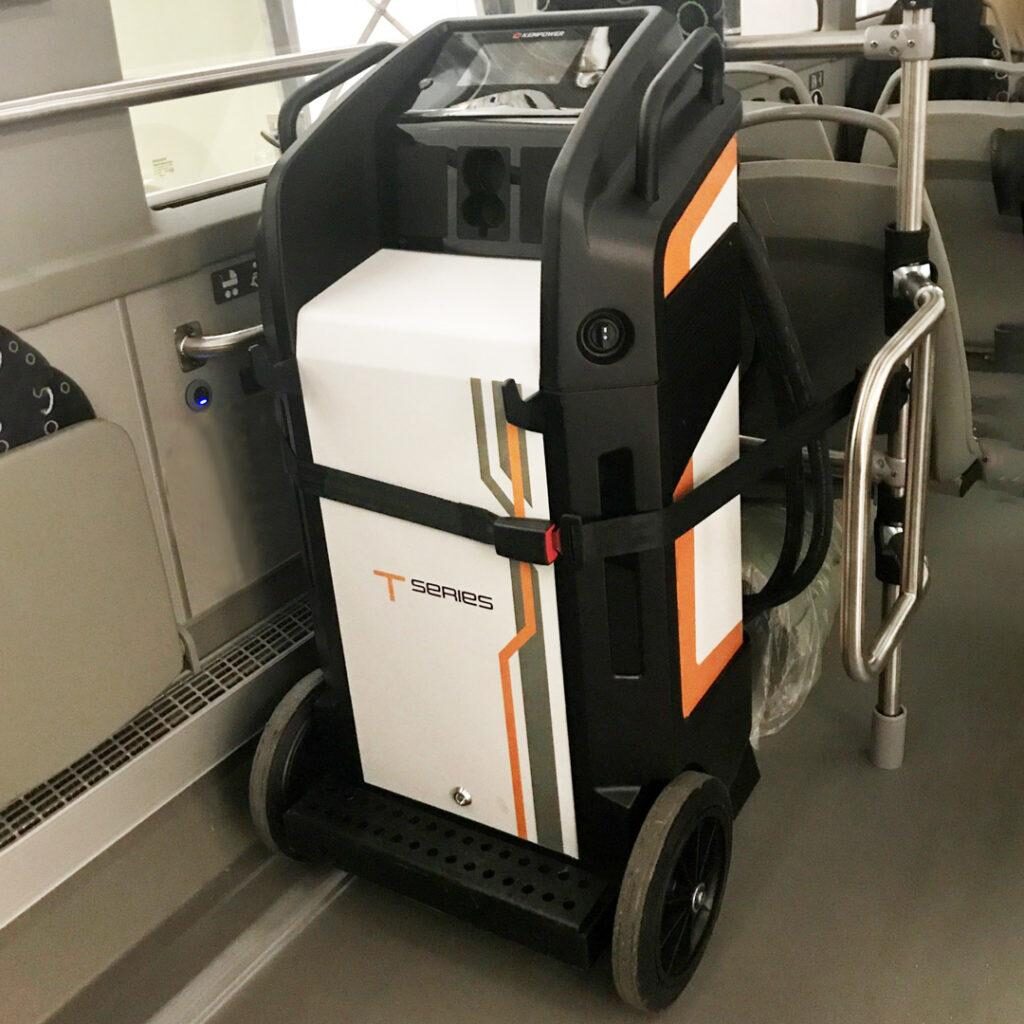 Volvo 7900 Electric is a quiet and comfortable bus for public transportation
The Volvo 7900 Electric is a quiet and comfortable workhorse for public transportation. It runs steadily, safely and flexibly in urban traffic. Its driving characteristics are like those of Volvo's traditional city transit buses and the electric drive brings pleasing new features to the vehicle. Public transport users will find it comfortable to travel in this quiet, bright and spacious electric bus that offers a smooth ride.
The buses can be customised for city use with a wide selection of interior design and equipment to meet the most demanding requirements. The diverse range of battery and charging options cater to different applications of the bus.
Electric buses will become increasingly common in the future, thanks to EU's Clean Vehicles Directive and climate targets. This test tour makes it possible to explore Volvo's clean solutions — even outside the Helsinki metropolitan area.
Tour schedule
The first appearance will be in Tampere in March and April where the Volvo 7900 Electric will be part of the regular Nysse city transport. First TKL (Tampere regional transport) will test the bus in March, then Länsilinjat Oy will continue testing the bus during April. After testing the bus in Tampere, the Volvo 7900 Electric will continue the test drives and rides in other parts of Finland.
For more information
Volvo Buses (Volvo Finland Ab)
Petteri Reku
Country Manager
petteri.reku@volvo.com
Tel. 0400 648 586
Tommi Pyöriä
Sales Manager
Project Manager (electric buses)
tommi.pyoria@volvo.com
Tel. 0500 680 309
Tampereen Kaupunkiliikenne Liikelaitos (TKL)
CEO Pekka Pirhonen
pekka.pirhonen@tampere.fi
Tel. 0400 172 328
Länsilinjat Oy
CEO Terhi Penttilä
terhi.penttila@lansilinjat.fi
Tel. 050 5320 711
Kempower Oy
Erik Kanerva
Director, Sales and Marketing
Tel. 040 523 9355
erik.kanerva@kempower.com
Kempower designs and manufactures DC fast charging solutions for electric vehicles. We're a team of electric vehicle enthusiasts with a deep understanding of the charging market and a hands-on mentality. Our product development and production are based in Finland, with a majority of our materials and components sourced locally. We focus on all areas of transportation, from personal cars and commercial vehicles to mining equipment, boats and motorsports. With Kemppi Group's 70 years' experience in perfecting DC power supplies, we set the bar high in engineering and user-experience design. Kempower is listed in the Nasdaq First North Growth Market Finland. www.kempower.com