Fast food and fast charging go together like your favorite combo meal and a refreshing drink.
It may not be the first combination you think of, but in reality, fast-food restaurants are a great location to offer an electric vehicle charging station for several reasons. One of the many reasons is because the time it takes to order and eat at a fast-food restaurant is similar to the amount of time it takes to fast charge an electric vehicle.
Offering Level 3 fast charging (DC charging) at your fast-food restaurant can increase daily revenue and expand your customer base. In fact, it may be the main reason a customer selects your restaurant. If you've been pondering the idea of installing EV chargers at your restaurant, this article is for you.
The basics of EV charging infrastructure
Don't let the world of EV charging intimidate you, there are a few things you should know to understand the basics.
The EV Charging levels
For fast charging and high-power, Level 3 (DC) charging is the best option. You may have heard that it takes EVs several hours to recharge, but this is not the case for powerful fast chargers.
Depending on several factors, such as the model of car, current battery level, temperature, and others, an EV can fully charge anywhere from 20 minutes to an hour with level 3 charging. The power output for Level 3 chargers typically ranges between 50 kW and 350 kW.
A good location for Level 3 charging is usually fast-food restaurants or gas stations, for example.
Level 2 charging (AC charging) provides a moderate charging speed for locations where an EV driver may spend more time with their car parked. Level 2 chargers may be an option fit for fine dining, a shopping mall, workplace, or a movie theatre.
The power output for Level 2 chargers typically ranges from 7 kW to 19 kW.
Then, Level 1 charging (AC Charging) provides a slower charging speed for cars that are parked all day or overnight. Most Level 1 chargers are used at home or residential areas.
The power output for Level 1 chargers is usually around 1 kW.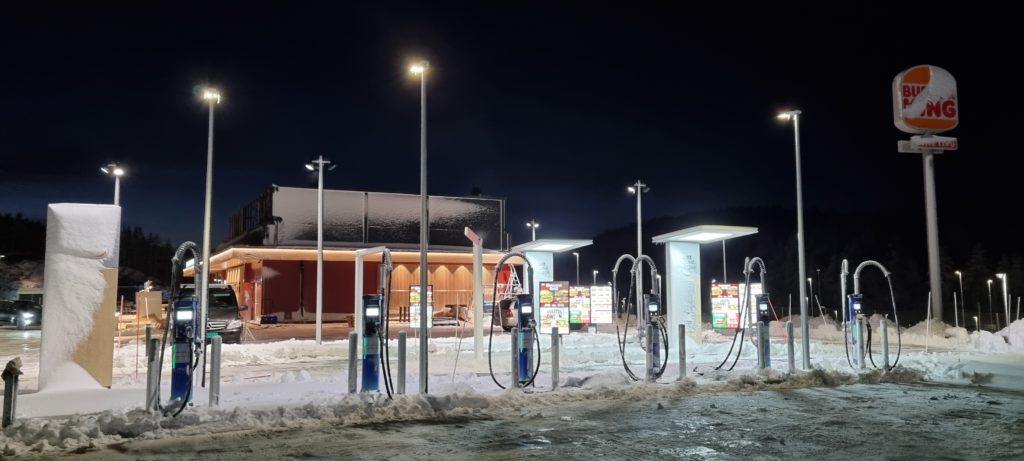 Burger King in Langrønningen, Norway with Level 3 Kempower Satellite chargers
What to consider with Level 3 charging
To prepare for Level 3 charging at your fast-food restaurant you should first consider:
Which fast chargers to use, you want it to be reliable and user-friendly like the Kempower Satellite chargers
The energy source and grid connection
Parking lot structure & installation services
Payment methods for EV drivers
Maintenance & scalability of charging infrastructure
Dynamic power distribution for Level 3 charging
To get the most out of your Level 3 EV chargers, you'll want to select a charging solution that dynamically distributes power . Dynamic charging optimizes power distribution for multiple charging points in the same area. This way, the charging capacity can be shared and a larger proportion of the kilowatts purchased is in use. For EV drivers, this means the power released from a charging session of one electric car can be transferred to another electric car. All electric cars have a declining charging curve, so dynamic charging optimizes power distribution with this in mind.
Now, let's move on to the benefits of fast charging at fast food restaurants.
How EV charging can positively impact fast-food restaurants
You may be wondering how many of your fast-food restaurant customers are EV drivers and if it's enough to justify offering charging infrastructure.
Instead of this thought process, consider how many more customers your restaurant will attract if it offers Level 3 EV charging.
McDonald's franchise owner, Hannu Wiinikainen, comments on having EV fast chargers at his fast-food restaurant:
"I believe that the electric cars are taking a big share of the traffic in near future. This is the reason why we have been investing in charging stations. With Kempower's hyper chargers, it's a great opportunity for our customers to have a short break and fill up their car battery at the same time. After a quick lunch, start off with a full battery. "

Hannu Wiinikainen, McDonald's franchise owner
EV charging can bring more business to your fast-food restaurant
EV drivers are always on the lookout for new, convenient charging stations since public charging is a necessity during longer travels.
Plus, by 2030, it is forecasted that EV sales in the US will grow to 52%, so the need for EV charging stations will only grow in the years to come.
By offering charging, you increase the chances of more sales. Typical EV charging sessions are around 20-40 minutes and that is similar to the amount of time people spend eating at a fast-food restaurant. Thus, when someone stops to charge, the temptation to grab a quick snack is also high.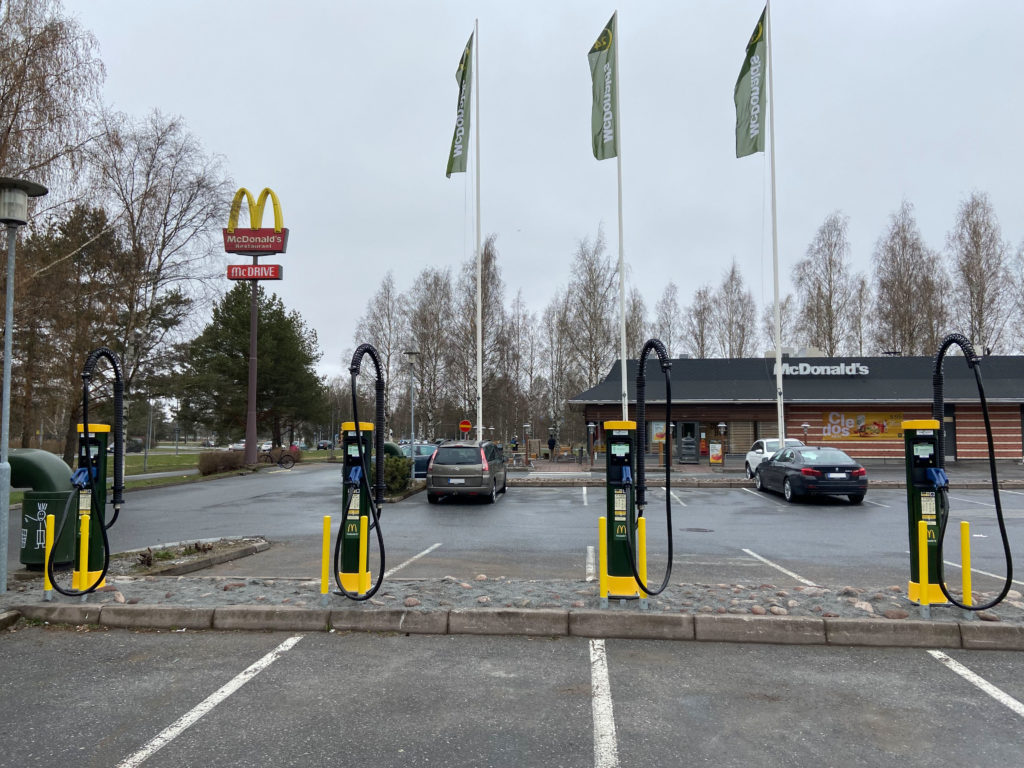 McDonald's in Pori, Finland with Level 3 Kempower Satellite chargers
EV charging can improve brand perception of a fast-food restaurant
In addition to increased revenue, hosting a charging station at a fast-food restaurant can boost brand perception.
Nearly 80% of US consumers consider sustainability when making purchases. Although you may not be able to make your direct business operations more sustainable overnight, having EV charging is a step in the right direction.
When you provide fast EV charging at your fast-food restaurant, it demonstrates that you are promoting and supporting electric mobility. Electric mobility contributes to reduced carbon emissions and a cleaner future.
In 2023, the number of customers that want to support green initiatives will only grow.
EV charging can boost loyalty & use loyalty rewards at fast-food restaurants
Another interesting aspect of electric vehicle charging at a fast-food restaurant is the prospect of increasing loyalty club members.
Many fast-food restaurants in the US offer reward programs for loyal customers who frequent their restaurants. You can extend this loyalty program to EV charging as well.
It's easy to integrate Kempower's EV charging software with your existing consumer app, so you can avoid the hassle of figuring out which additional EV charging apps you may need.
How creative you want to get with your app, like how users can earn and use their loyalty points for EV charging, is up to you. With the right software supporting your chargers, like Kempower ChargEye, you and your customers are sure to enjoy the benefits.
A reward system that integrates the fast dining experience and the charging experience gives you an edge over the neighboring restaurants.
McDonald's in Tampere, Finland with Level 3 Kempower Satellite chargers
How to make EV charging a success at fast-food restaurants
If you want to make EV charging a success at your fast-food restaurant, you'll need to always put the EV driver's experience in the forefront.
You want to make sure you offer powerful chargers that are easy for EV drivers to use and easy for you operate. You'll need to make sure the structure of your parking lot allows traffic to flow smoothly and for EV drivers to locate the chargers easily. It's also important to have a backend software that makes it easy to manage and monitor the chargers in your parking lot.
"It's great to be able to serve our customers as a pioneer in this way too."

says McDonald's franchise owner, Ari Taivalsaari, on offering Kempower's EV charging solutions.
Want to learn more about the possibilities of fast charging at fast-food restaurants? Check out this reference of our Kempower chargers at a McDonald's in Tampere, Finland.
Written by
Jade Ventoniemi
Marketing Specialist