Not all EV charging networks are created equally.
You may think that charging hardware is the only factor that separates one charging station from the next. But, that's not the case.
EV charging software is crucial for staying ahead in the charging station competition, alongside the hardware.
An end-to-end charging software solution is the key to business success for charging operators and service providers. In fact, EV charging software plays a major role in increasing the return on investment of your charging equipment.
To help you understand the importance of EV charging software, in this blog post, we'll answer these questions:
What is EV charging software?
EV charging software allows charging operators and service providers to monitor, manage, and diagnose the day-to-day operations of EV chargers. This software is what connects EV drivers, the chargers, and the operators to create a holistic charging experience.
The reliability and user experience of a charging station often boils down to the charging software it uses.
You may have heard of alternative terms for EV charging software such as charge point management software or charging management system. For the sake of this article, we will use these terms interchangeably.
Who is EV charging software for?
As mentioned earlier, EV charging software is a tool used to monitor and manage charging stations, so it's useful for:
Retail owners with a charging station
Charge Point Operators (CPO)
E-mobility service providers (EMSP)
Fleet and depot owners
The roles within a company that work directly with charging management software the most frequently are:
Maintenance & service personnel
Customer support representatives
Back office operations
Fleet dispatchers
Kempower created a versatile EV charging software called Kempower ChargEye, which improves the experience for both drivers and operators.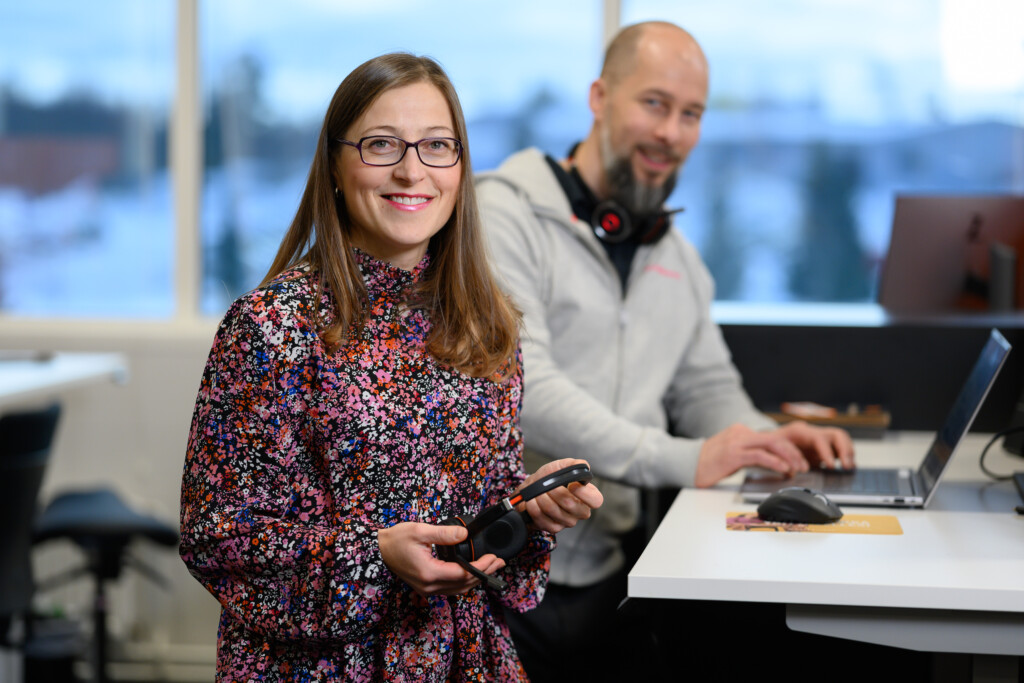 What is Kempower ChargEye?
Kempower ChargEye is a cloud-based charging management software for EV chargers. It was initially developed alongside Kempower charging hardware. The overall goal of ChargEye is to make it simple for charging operators and service providers to get started. It also sets the foundation for successful EV charging operations by making charging sessions more cohesive for both charger operators and EV drivers.
Kempower ChargEye makes EV charging solutions so practical for all involved is because it was developed by EV drivers themselves. Many of the Kempower engineers developed this software solution based on their personal experiences with electric vehicles.
Why is EV charging software important?
EV charging software is the piece of the puzzle that often determines the success of a charging business. It helps you simplify and optimize many of the tasks that come with managing an EV charging station that would typically slow you down.
Without an efficient EV charging software, you're turning a blind eye to the charging equipment you've already invested heavily in. You may even be pushing customers away.
There are numerous reasons why EV charging software is important, like the aforementioned getting the most out of your charging hardware.
In the following sections, we'll cover just a few of the reasons why EV charging software matters, such as how it can help you:
improve charger reliability & uptime
strengthen your charging business
manage power and energy consumption
enhance EV drivers' user experience at charging stations
We'll cover specifically how these work with our EV charging software, Kempower ChargEye.
How EV charging software improves charger reliability and uptime
EV charging software improves EV charger reliability and uptime through remote monitoring and actions.
With remote monitoring and remote actions, charger operators can detect & troubleshoot problems off-site. This works well for real-time problem-solving which, in turn, increases charger uptime. Remote diagnostics also help save service provider's time and resources.
With remote monitoring, you don't have to wait to hear from customers if there is a problem with your EV chargers. Through Kempower ChargEye, errors are flagged instantaneously, so, when operators see something out of line with a charger, they can make adjustments without an interruption in service.
In the case that a driver does have an issue with a charger and needs to call customer service, an operator can take remote action to help the driver through Kempower ChargEye.
For example, if an EV driver has a problem with his charging session, he can call the customer support line that is displayed on the charger. With Kempower ChargEye, the customer support representative can see what's happening in real time with the charger in question. The customer support rep can run remote diagnostics, advise the driver on what to do next, and then determine if on-site service support is required, all through Kempower ChargEye.
When operators can run remote diagnostics, they're able to send a service provider to the field prepared with a solution and spare parts if necessary. This saves time and resources compared to when a service provider arrives to a site blind to the root of the problem.
How EV charging software strengthens charging business
With data collection and analysis through Kempower ChargEye, operators can obtain information from charging sessions that can help strengthen their charging network.
When an EV connects to a charger, it relays important data to the Kempower ChargEye system such as car model, it's charging curve, and vehicle limits. The data from Kempower ChargEye can reveal patterns that may indicate a recurring issue with a specific vehicle model. Data helps both Kempower and OEMs (original equipment manufacturers) fix common issues and increase the availability of charging networks for different vehicles. Analyzing data in Kempower ChargEye could also inspire you to rethink how to instruct EV drivers to charge to assure the best charging experience.
Kempower ChargEye also helps operators make informed business decisions based on data collected from charging sessions. With ChargEye, operators can see how charging power is utilized and performing across different locations. This will help business leaders make wise choices when it comes to investing in expansion and deciding which locations have the best return.
How EV charging software helps manage power and energy consumption
The Kempower Power Unit and Satellite charger system allows for dynamic power distribution, which allocates charging power to cars based on what they request and what is available. But, Kempower ChargEye software allows for sitewide power management.
Power consumption can run up the costs of your charging site if you're pulling maximum power from the grid at all times. This also becomes expensive when energy prices rise due to electricity demands other businesses on the same lot.
With the smart charging of Kempower ChargEye, you can monitor the full grid load. Then, you can manage power consumption by setting a limit for maximum power available for all chargers at a site. The ChargEye system will make sure that power usage stays below that set limit.
For scheduled charging sessions at a depot, Kempower ChargEye offers the capability to charge according to energy spot price. This means that fleet operators can arrange charging sessions to take place during cheaper times. ChargEye also minimizes the amount of power used by shaving power peaks. Both of these features within ChargEye significantly save energy costs for vehicle fleet operators.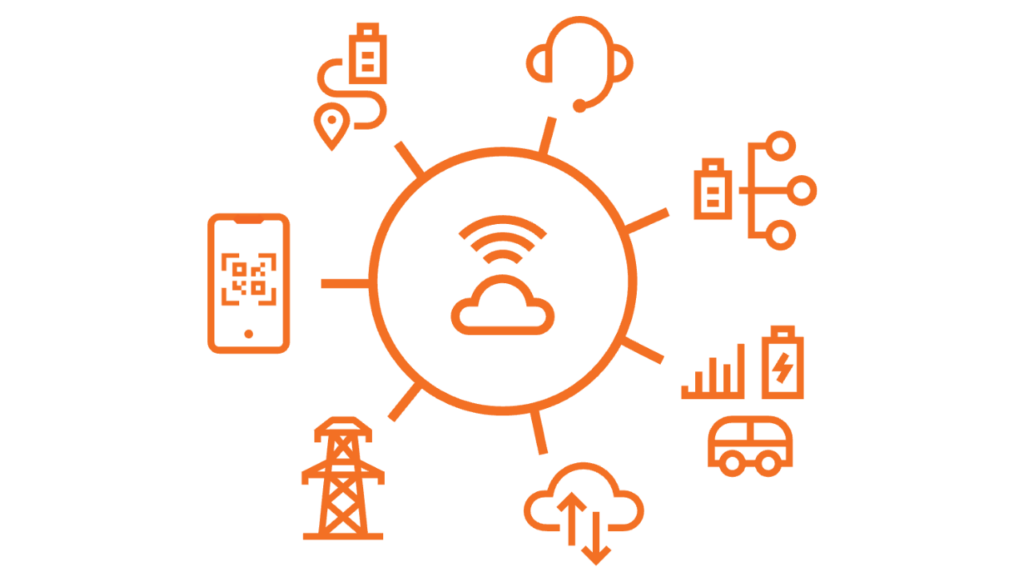 How EV charging software enhances the user experience
Creating a seamless user experience is only possible when you have a versatile EV charging software as the foundation. With Kempower ChargEye, we've taken into consideration the complete EV driver's journey with public charging and at depots.
One of the first things an EV driver notices when he or she arrives to a charging station is the charger's display screen.
Kempower ChargEye powers the user interface on Kempower charger screens. 
Intuitive user interface makes charging easy
For the EV driver, understanding and interacting with the touch screen is intuitive. Before a driver plugs in, he or she can see how much power is available and instructions on how to charge. The charger operator can decide what is displayed on the charger's screen and can be customized through Kempower ChargEye.
CPOs are also able to brand the display with their logos and texts to differentiate from other competitors.
Clear pricing offers transparency
The Kempower ChargEye software offers multiple languages and multiple currencies to serve customers around the world.
With ChargEye you can display the real-time price to customers at the charger. You also decide the pricing structure with parameters such as kWh or time-based and overstay charge.
Charging session details educate drivers
During the charging session, Kempower ChargEye displays the charging status to drivers on the charger itself. It is able to predict how long the session will take to reach a certain battery percentage. It can also notify the user if there is a factor limiting the power output of the charging session. For example, if the car is limiting the power or if the charger is limiting the power.
Bring-along charging status adds convenience
With the unique QR code functionality, users can scan the QR code on their phone to bring the charging status with them to monitor. This is great for users who now can relax about charging their car while shopping or waiting away from it.
At the end of a charging session, Kempower ChargEye can display information on how to stop the session and summarize charging information like price and kilowatts used.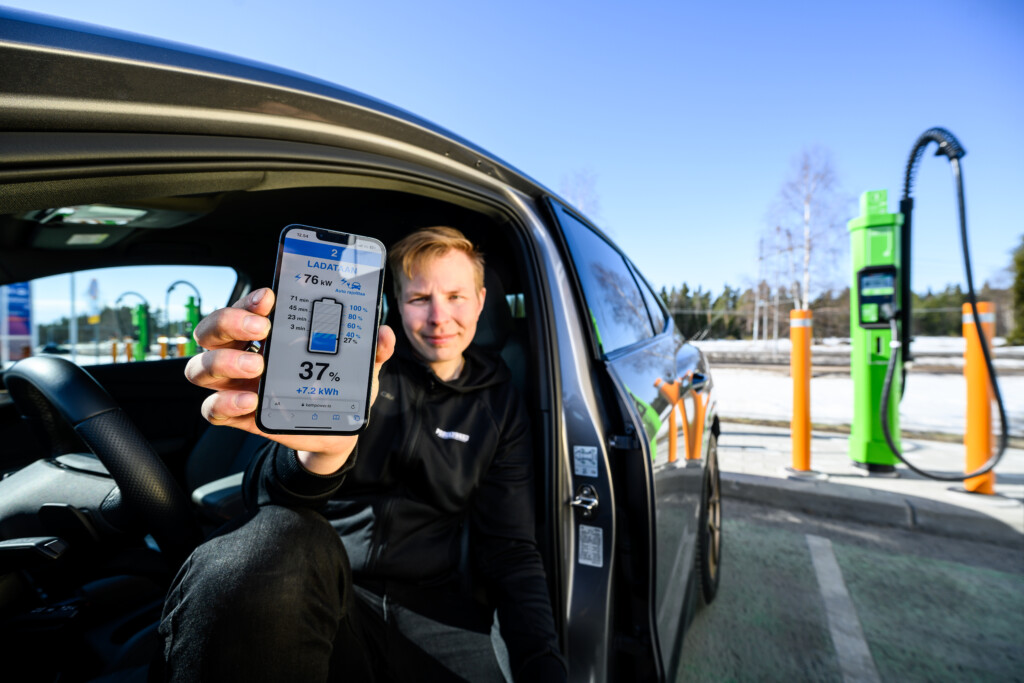 The benefits of Kempower ChargEye
When you have a comprehensive charging software, like Kempower ChargEye you reap many benefits such as:
Reducing customer complaints with proactive problem resolution and remote monitoring
Saving time by managing chargers remotely and taking action remotely
Making smarter business decisions based on data collected about electric vehicles and charging sessions
Retaining customers with positive charging experiences
Saving money by optimizing grid connection and energy consumption
In conclusion, if you want to run an EV charging station that EV drivers choose time and time again, you'll need a reliable EV charging software to support your choice of charging hardware.
Written by
Jade Ventoniemi & Tero Könönen
Marketing Specialist – Product Manager, ChargEye