Germany's biggest municipal street cleaning and waste management company, Berliner Stadtreinigung (BSR), has purchased 18 Kempower Movable chargers to recharge their large electric vehicle fleet. Mobile chargers are an excellent option and can play a significant part in the entire power supply infrastructure.
Director of BSR's fleet Wolfgang Wüllhorst and Product Manager Arvid Rüster report on the task of establishing a charging infrastructure for the company's considerable EV fleet. Electrification of BSR's vehicles is currently one of the main themes in their efforts to keep the city of Berlin clean.
The discussion is often limited to vehicles when it comes to alternative power technology. Infrastructure is often completely forgotten, although it's a primary and essential part of electrification: electric vehicles simply do not run if not recharged. Thus, infrastructure should be planned and installed before ordering any vehicles.

Wolfgang Wüllhorst, Director of BSR's fleet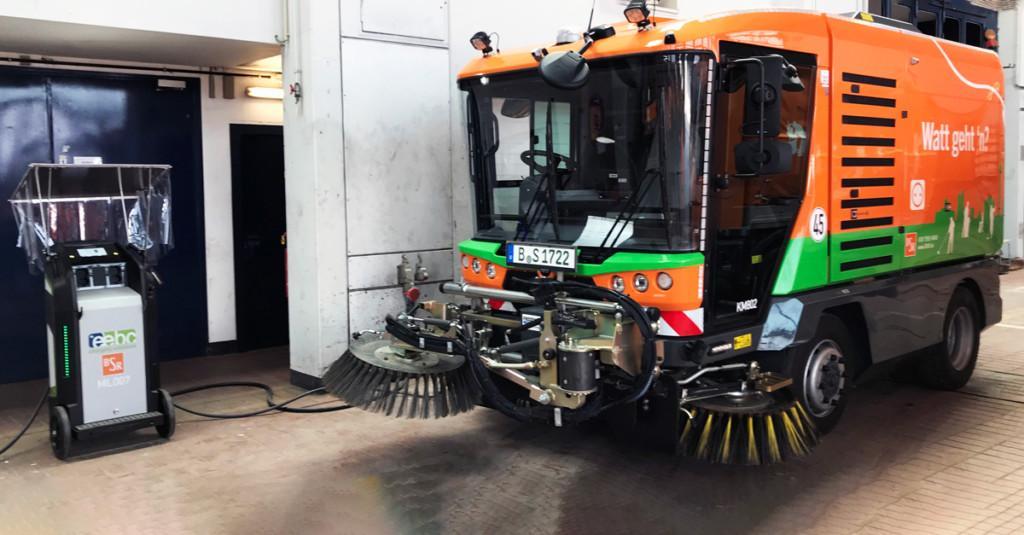 BSR is a forerunner for electric transport in the city cleaning industry
Kempower's German sales partner, the European Electrical Bus Company (EEBC) provided valuable support in the project. Thomas Mang, CEO at EEBC, also emphasizes the importance of technical background knowledge and thorough planning.
BSR is well ahead in developing electric transport and the company is well regarded as a positive example in their field, says Mang.

Thomas Mang, CEO at EEBC
Our task is above all to look after Berlin. This means we want to be part of developing optimized logistics with reduced emissions and bring new technology to the fore. This and the size of our 1,800-vehicle fleet puts us in a leading position in the industry. Furthermore, we also know that if electric cleaning vehicles are brought onto the streets of Berlin, they will soon be acknowledged elsewhere, too.

Wolfgang Wüllhorst
A charging infrastructure crisis was avoided with the help of Kempower
BSR had already begun the process of ordering stationary charging systems for their future EV fleet when they ran into troublesome delays. The fleet management nearly found themselves in a situation where they had vehicles in use that could not yet be charged.
At that time, we searched for solutions that were available at short notice and came across these chargers that are both mobile and fast-charging. That led us to Kempower in Finland.

Our project would not have ended well without the mobile charging stations. It could have turned out to be an absolute fiasco.

Arvid Rüster, BSR's Product Manager
Eighteen mobile chargers provide running power for 230 electric cleaning vehicles
BSR currently has 18 of Kempower's T800 mobile fast-charging stations. They are 40kW chargers with different connecting contacts that can each charge two vehicles at a time in parallel. This new infrastructure charges a total of 230 electric vehicles at BSR.
The electric BSR fleet is made up of passenger cars, small transporters, sweeping machines and garbage collecting trucks that have been converted to EVs from originally diesel-powered older vehicles.
First goal met with success; future goals will be reached thanks to the flexibility of the mobile chargers
Our first objective was to be able to supply our new electric vehicles with charging power. This was a complete success, and our future goals are a lot nearer thanks to the flexibility of the mobile chargers, Wüllhorst explains.
The cooperation between BSR, EEBC and Kempower was characterized by quick and flexible reactions, reliable presence on-premises and a well-conducted deployment process.
All the issues that felt like questions hanging in the air to begin with were rapidly solved and answered. This is very commendable.

Arvid Rüster
Environmentally friendly transport for a cleaner city and better quality of life
According to Wüllhorst, the most valuable result of the project was that BSR was able to ensure the charging of their EV fleet and thus avoid critical damage to the hot topic of electrification. The vehicles are in constant use and run smoothly even in winter conditions.
This means we are able to do our part for the environment by consuming less diesel and reducing our CO2 emissions. Our new vehicles also run a lot quieter in the city. Thereby, we hope to also improve quality of life in urban areas.

Arvid Rüster
Mobile fast chargers play a significant part in the power supply infrastructure
Wüllhorst and Rüster share their insight that infrastructure planning should be prioritized over the procurement of vehicles. It is impossible to have electric vehicles running smoothly without a charging infrastructure in place.
This infrastructure should also incorporate inbuilt flexibility. Thus, mobile chargers can play a significant part in the entire power supply infrastructure. Both Rüster and Wüllhorst strongly recommend taking flexibility into account when planning new infrastructures.
This comes in handy every day at BSR. I can now decide to position the chargers in the hall today, place them in the workshop tomorrow and have them outside the day after tomorrow.

Arvid Rüster
International partnership resulting in cleaner and more reliable electric traffic
A great trustworthy relationship between partners was already developed on both sides during the deployment of the first test charger. This resulted in one charging station being ordered after the other, Mang explains.

Thomas Mang
If Kempower maintains their high quality and further develops the option to incorporate mobile chargers in the broader energy management of larger vehicle fleets, the Finnish company's path is paved for success.

Wolfgang Wüllhorst
For further information:
Philipp Oppolzer
Senior Sales Manager
Kempower GmbH
Email: philipp.oppolzer@kempower.com
Thomas Mang
Geschäftsführer
EEBC European Electrical Bus Company GmbH
Tel. +49 69 68 60 23 60
Email: t.mang@eebc.gmbh
About Kempower
Kempower Oy designs and manufactures DC fast charging solutions for electric vehicles operating in the most demanding conditions. The company is a largescale charging system supplier that aims for smoothly running and practical electric mobility infrastructure. With 70 years of experience in demanding electric power supplies, Kempower sets the bar high in engineering and user-experience design. Kempower's charging solutions are designed and manufactured in Lahti, Finland and are available globally.