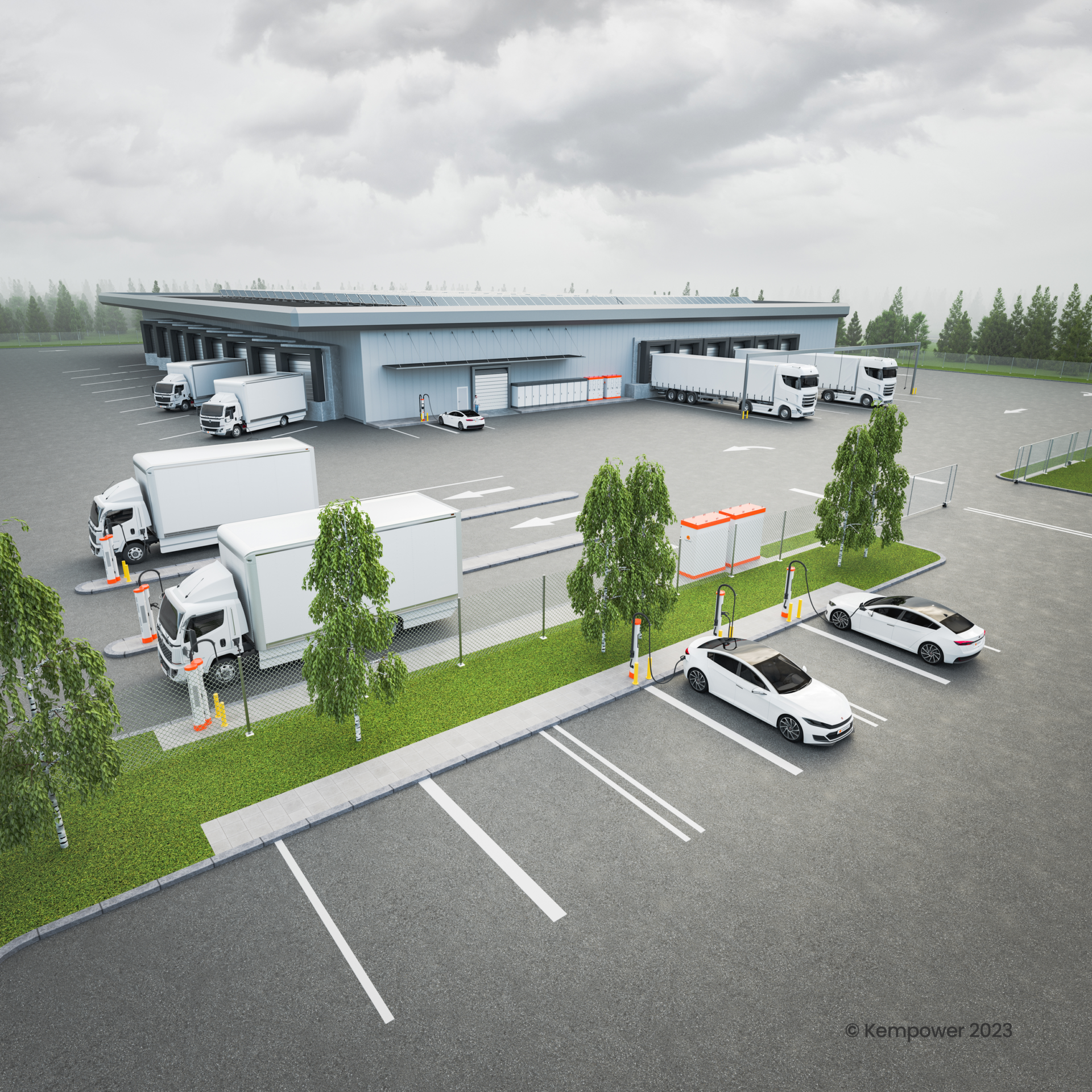 Back to news
Kempower introduces Megawatt Charging System for electric trucks and electric vehicles using power above one megawatt
Lahti, Finland – (Tuesday, October 17, 2023) Kempower is expanding its diverse, fast DC charging solutions offering as the company introduces its megawatt charging system to the market. Megawatt charging system, MCS, is a dedicated charging system for higher powers above 1 MW, specified for electric truck charging.
Kempower's new charging solution is based on the company's existing technology, including Kempower's high power satellite with MCS liquid cooled charging plug and two 600 kW Kempower Power Units. The company starts deliveries of the new Kempower Megawatt Charging System in Europe during the first quarter of 2024. The total power of the first delivered Kempower MCS solution delivery will be 1.2 megawatts.
"We are a key part of the critical growth of the electrification of trucks and heavy-duty transportation. Electric trucks are gaining traction as a sustainable alternative to traditional diesel trucks. Traditional heavy-duty trucks account for more than 25% of the total CO2 emissions from road transport. So, it's clear that transitioning truck fleets to electric will have a major impact on climate change mitigation. An electric fleet also helps businesses get ahead of the competition by meeting sustainability demands," said Jussi Vanhanen, Chief Market Officer of Kempower.
"Electric trucks are typically charged with a DC fast charger either overnight, at a warehouse destination, or on-the-move along highways. Larger EVs need larger power sources. Our megawatt charging solution serves all those use cases: overnight, destination and on-the-move charging," said Vanhanen.
Trucks, buses and coaches are currently responsible for around 25% of CO2 emissions from road transport in the EU and approximately 6% of the region's total emissions.
In the US, medium and heavy-duty trucks account for about  29% of road transport's total emissions – and approximately 7% of the country's total – despite being less than 5% of the total vehicles on the road.
Emissions are continuing to rise, primarily due to the growing amount of freight traffic on roads.
Kempower expects the commercial vehicle DC charging market in Europe and North America to have 37% compound annual growth rate until 2030.
"Kempower reduces carbon emissions in urban areas through its patented DC fast charging solution; therefore, producing MCS' and delivering them across the globe will not only vastly improve the EV charging infrastructure for heavy-duty vehicles, but will be a key part of a major step forward in reducing carbon emissions, ultimately helping to save the future of our planet,"

said Jussi Vanhanen.
"With these new MCS', the technology the world has been waiting for to help launch sustainable transportation into the future is here today. Vehicle charging will be the fastest drivers have ever experienced and with Kempower's full-service solutions, truck fleet owners can count on reliable charging when and where they need them," Vanhanen concludes.
Kempower media:
Petra Toivanen, Communications Manager, Kempower
+358 29 0021900
media@kempower.com
Kempower in brief
We design and manufacture reliable and user-friendly DC fast-charging solutions for electric vehicles. Our vision is to create the world's most desired EV charging solutions for everyone, everywhere. Our product development and production are based in Finland, with the majority of our materials and components sourced locally. We focus on all areas of e-mobility, from electric cars, trucks, and buses to machines and marine. Our modular and scalable charging system and world-class software are designed by EV drivers for EV drivers, enabling the best user experience for our customers around the world. Kempower is listed in the Nasdaq First North Growth Market Finland. www.kempower.com
You can stay informed about Kempower's technological advancements in EV charging technology by subscribing to our newsletter , following us on LinkedIn, Twitter, Instagram, or Facebook. You can also watch informational videos on our YouTube channel, and reach out to a representative at a location nearest you, to become a Kempower partner.