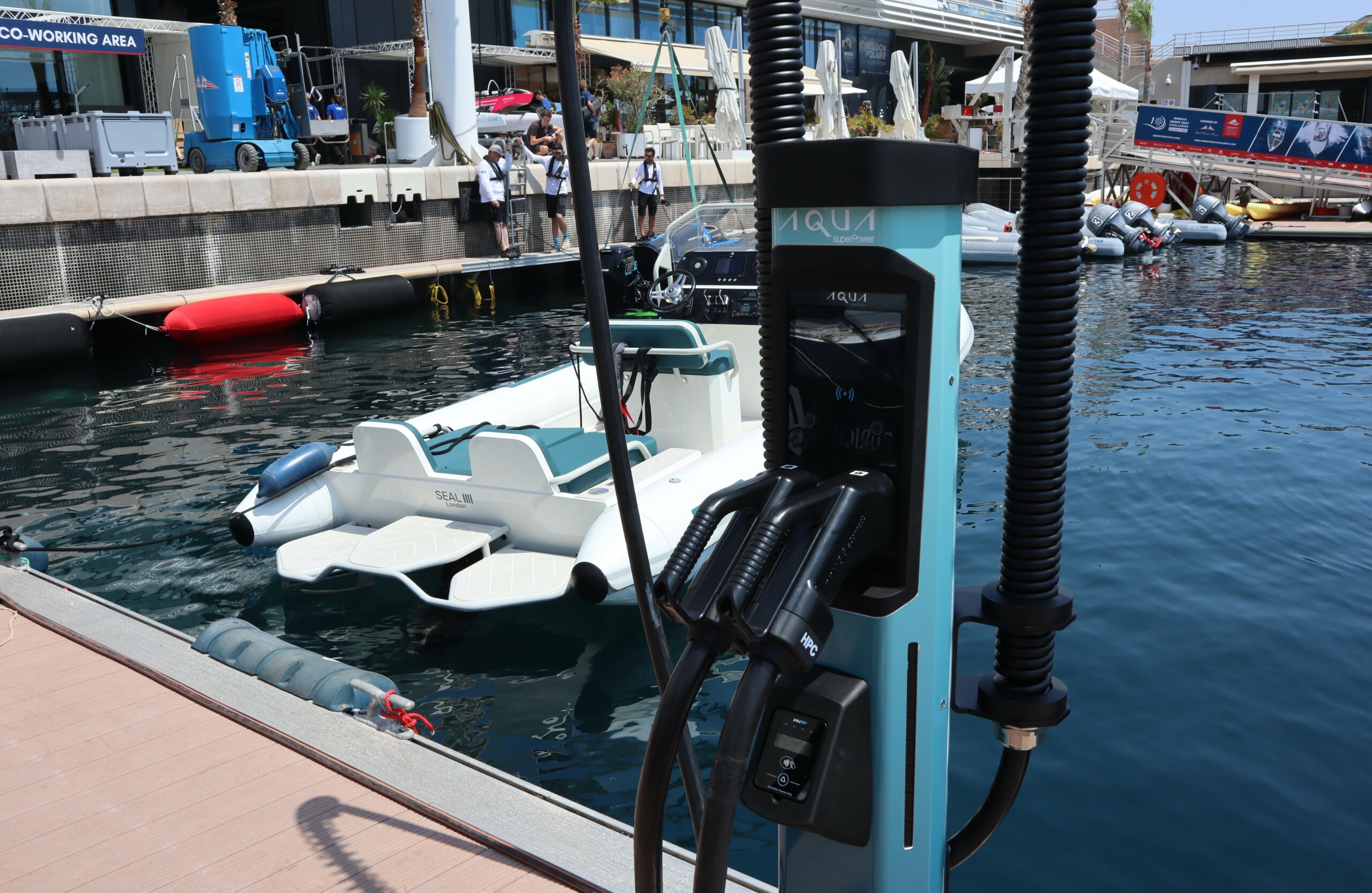 Back to news
Kempower DC fast charging solutions for electric boats brought to Yacht Club de Monaco by Aqua superPower
Global marine fast charge network operator Aqua superPower has partnered with Kempower to deliver the company's DC fast charging solutions to Yacht Club de Monaco (YCM). 
The collaboration is part of the biggest installation globally dedicated to public marine fast charging on a single pontoon – including the Aqua 75 DCs, Aqua Pods, and the Kempower solution.
The marina is equipped with the Kempower Satellite charging system.
MONACO –Aqua superPower and Kempower are announcing a strategic partnership to assist high usage operators like Yacht Club de Monaco to service the needs of the next generation e-boats. The collaboration between Aqua superPower and YCM resulted in the largest public marine charging station on a single pontoon, which consists of a mix of both high power DC and slower AC chargers. Aqua superPower project managed and delivered Kempower's charging solution to YCM.
In 2019, Yacht Club de Monaco (YCM) was the first marina in the world to equip its dock with Aqua's DC marine fast chargers, paving the way for the adoption of electric boating, an initiative that included adding electric tenders to reinforce its Sports Section's fleet. As host of the prestigious annual Monaco Energy Boat Challenge, YCM took its commitment to electric boating a step further by collaborating with Aqua superPower as a technical partner for this year's event.
Aqua superPower partnered with Kempower to assist high usage site operators like Yacht Club de Monaco in managing their evolving demand for electric boat charging, enhance revenue, and support the marine industry's transition to electric propulsion.
"We are committed to fostering a cleaner environment and working for emission-free transportation, not only on land but also at sea. Participating in the development of the world's largest public marine fast-charging installation on a single pontoon is a significant milestone in advancing the electrification of boats. We're happy to be part of this project, which aims to accelerate the electrification of boats across Europe. We look forward to continuing the collaboration with Aqua superPower in the future", said Kempower's CEO Tomi Ristimäki.
"We constantly seek proven 'best-in-class' technology partners in the development of our marine fast charging network and infrastructure. We elected to work with Kempower for their scalable system architecture and seamless user experience. Our partnership enables us to provide the resilient and high-power marine fast charging that meets the commercial and leisure user demands at Yacht Club de Monaco. Our approach is centered on delivering future-proof Aqua certified marine charging infrastructure dependent on usage and location that provides the confidence to transition to clean electric boating. This has been made possible through the fantastic commitment of Yacht Club de Monaco as a global pioneer in marine e-mobility and innovation",

said Aqua superPower's CEO Alex Bamberg.
Media enquiries:
Paula Savonen, VP, Communications,
+358 400 343 851
Kempower in brief
We design and manufacture reliable and user-friendly DC fast-charging solutions for electric vehicles. Our vision is to create the world's most desired EV charging solutions for everyone, everywhere. Our product development and production are based in Finland, with the majority of our materials and components sourced locally. We focus on all areas of e-mobility, from electric cars, trucks, and buses to machines and marine. Our modular and scalable charging system and world-class software are designed by EV drivers for EV drivers, enabling the best user experience for our customers around the world. Kempower is listed in the Nasdaq First North Growth Market Finland. www.kempower.com
Aqua superPower in brief
Aqua superPower is the first fully marinised dockside network of fast charge stations for electric boats. The product range includes AC and DC charging solutions with a current maximum power output of 200 kW, allowing DC compatible powerboats to rapidly recharge and extend their autonomy. Aqua superPower has developed the first supercharger specifically engineered and rated for use in marine environments. Built to IP65 standards, Aqua superPower is a revolutionary and sustainable marine charging solution.
The global electric boat market is expected to be worth over $20 billion by 2027. There are currently over 30 million recreational boats in the world. Assuming the boat market continues to grow in line with historical trends, it is likely there will be more than 1 million electric boats by 2030. Regulation will accelerate this trend. More and more areas will only be accessible to electric boats. www.aqua-superpower.com