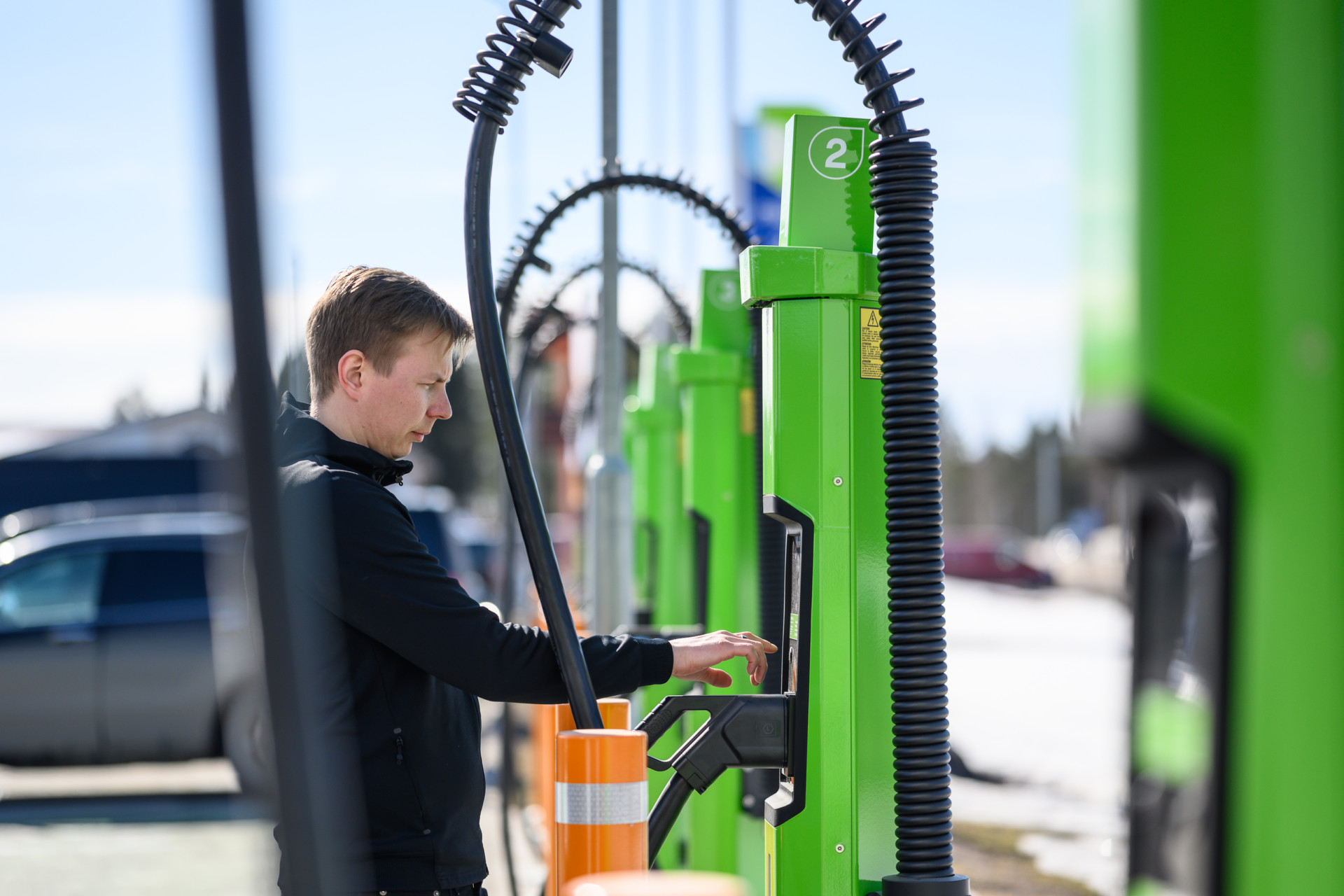 A family-owned retail business with a big dream of EV charging
When business owner Jussi Jaakkola noticed electric cars becoming more popular in 2018, he knew it was time to take advantage of this new form of traffic for his business.
Jussi owns Oulunbaari, a service station and restaurant in Oulu, Finland. The business has been in the Jaakkola family for over 30 years. They've been able to sustain business through their delicious food offerings, convenient location near the highway and a loyal customer base from travelers over the years.
But, with the ever-present competition of service stations and fast-food restaurants located in the same area, Oulunbaari needed an extra spark to stay ahead and attract new customers. That new spark was offering an electric vehicle charging station.
Jussi had hoped that a new charging station would attract EV drivers who needed to recharge their car batteries and refuel their stomachs. He knew that if he could get new drivers to come & charge at the station, then Oulunbaari's diverse offerings would do the rest to increase in-store purchases.
"Kempower has brought us more electric car drivers. We have benefited from the chargers by offering our customers power, which means that they can also stop by for a meal and a coffee."

Jussi Jaakkola, Oulunbaari Business Owner
A first attempt at offering EV charging didn't go as planned
A few years ago, Oulunbaari's first attempt at offering EV charging didn't make the significant impact they were hoping for. The restaurant and service station only had one 50 kW charger available. It didn't allow multiple vehicles to charge at once nor did it provide enough charging power for many EVs on the market.
With these shortcomings, Oulunbaari's first EV charging equipment that they'd deployed didn't draw in a substantial amount of EV drivers.
That's when Jussi made the business decision to seek out a charging solution that could provide more power and a stand-out user-experience for EV drivers.
How Kempower made Oulunbaari's EV charging dreams a reality
During his research, Jussi stumbled across a Finnish EV fast charging solutions provider named Kempower. He was instantly interested in Kempower's dynamic Satellite charging system.
Jussi shares that "we chose Kempower as a partner because they are local, have the best products on the market and use a flexible system."
The unique EV charging system Kempower provided Oulunbaari
From the beginning, Jussi knew that he wanted to serve as many electric car drivers as possible at his charging site. This mindset works well with Kempower's offering of dynamic charging solutions.
Jussi comments on the Kempower's dynamic system: "Kempower differs from its competitors with its ease-of-use and dynamic power management, which provides cars with the exact amount of energy."
Currently, Oulunbaari's charging station features six Kempower Satellites with six CCS2 plugs, and a Kempower Power Unit.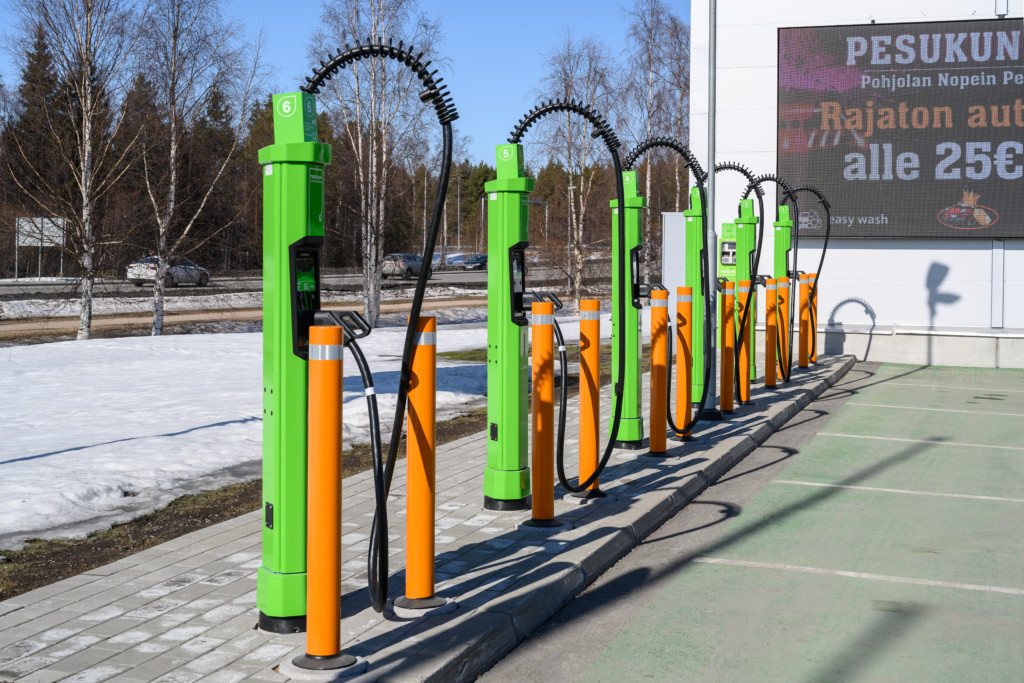 With Kempower's dynamic power sharing solution, a limited amount of power can be shared between several different satellite charging points depending on how many cars need power.
So, whether six cars need to charge at the same time, or only one car needs to charge, the Kempower dynamic charging system can optimize the amount of power distributed. There's no need to pull maximum power from the grid at all times. By offering more charging points, Jussi is able to provide more opportunities for drivers to plug in and visit his store. Without multiple charging points, it would force drivers to visit the next EV charging station, since there would be no charging availability.
How Oulunbaari uses Kempower ChargEye, a charging management software
Pricing was also important to Jussi. He wanted to utilize a pricing strategy that would be transparent and fair for all drivers. So, kwh-based pricing was the best strategy. With this pricing scheme it wouldn't cause drivers to rush their leisure time inside the store in order to rush back out to their charging session.
With Kempower ChargEye, a cloud-based charging management system, business owners can decide how they want to display pricing and other branded advertisements. Jussi has also enjoyed the different functionalities of Kempower ChargEye from a business owner's perspective. He shares:
"I use Kempower ChargEye every day. It's fantastic and I'm hooked. I like to look at the charging power being used, what type of EVs come to charge, and how many kW each car is using [in ChargEye]. The dynamic charging and ChargEye software is the most unique thing that separates Kempower from the others."

Jussi Jaakkola
EV drivers also benefit from Kempower ChargEye. One popular feature is how drivers can scan the QR code on the charger to conveniently follow their charging status on their phone without the need of additional apps.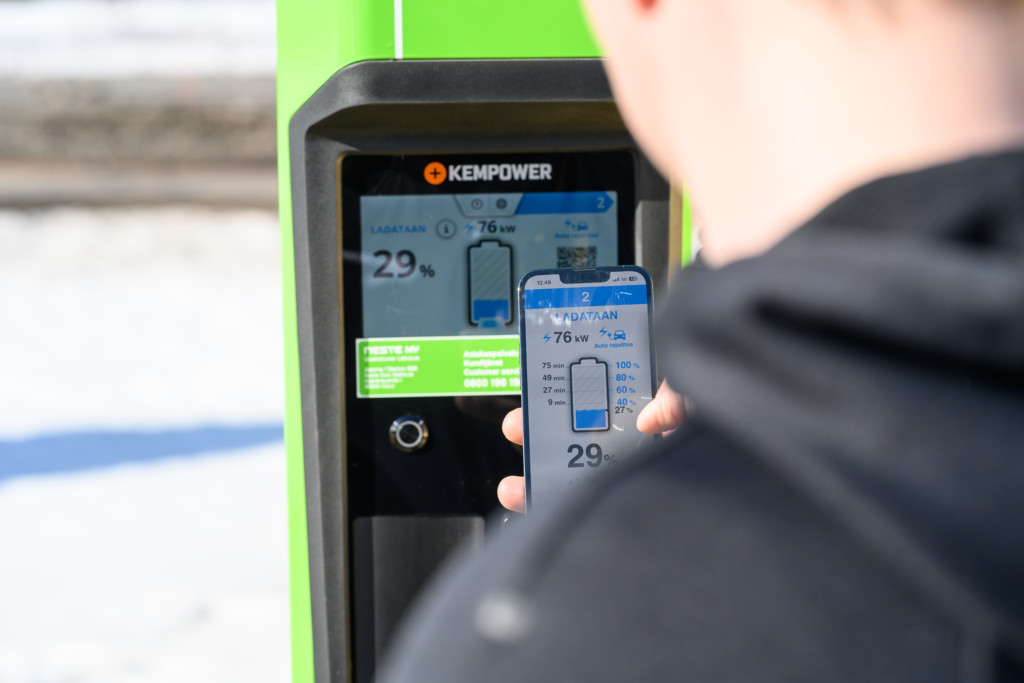 Oulunbaari powers 1,200 successful charging sessions in 3 months
Since opening the charging station in December of 2022, Jussi Jaakkola has been satisfied with Kempower's dynamic charging solutions. He also looks forward to the possibility and ease of scaling up the charging station with Kempower's charging solutions, as electric traffic increases.
"Kempower's solutions are very flexible. We can easily increase power and the number of charging points, if necessary."

Jussi Jaakkola, OUlunbaari Business Owner
EV drivers who have charged with the Kempower chargers at Oulunbaari have been impressed with the user-friendliness of the Kempower chargers and the ability to pay with card. Often at EV charging stations, EV drivers need to pay within a downloaded app, online, or with an RFID tag. So, drivers appreciate the convenience of being able to pay at a payment terminal at the Oulunbaari charging station.
In quarter 1 of 2023, there have been around 1,200 successful charging sessions at Oulunbaari's EV charging station with Kempower chargers.
On average, EV drivers have spent 22 minutes for their fast-charging sessions and the longest session has been around 95 minutes.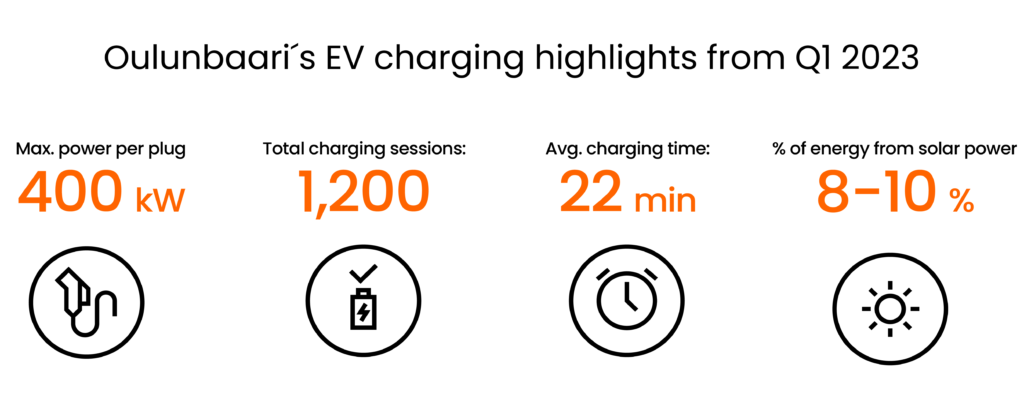 End note: Oulunbaari is a part of the Neste fueling station network, so the charging site development at Oulunbaari is aligned with the Neste MY Renewable Charging rollout across Finland. In this case, Neste was also a charging partner for this charging site at Oulunbaari.
Written by
Jade Ventoniemi
Content Marketing Specialist